March 22, 2019
Dumbo the elephant is flying back to the big screen on March 29th, this time with a Tim Burton twist!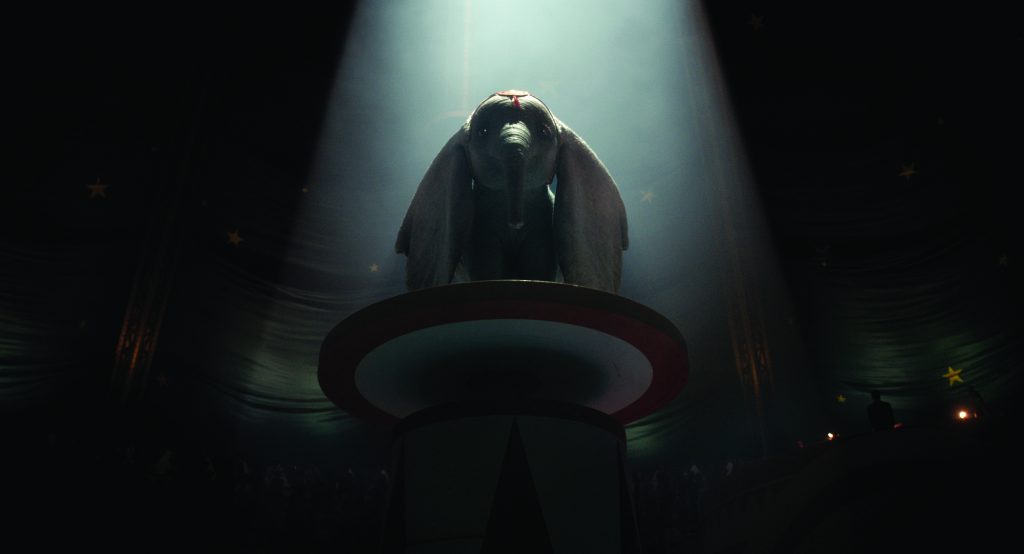 From Disney and visionary direction Tim Burton, the all-new live-action adventure Dumbo develops the beloved classic story into a tale where differences are celebrated, family is cherished, and dreams take flight.
Circus owner Max Medici (Danny DeVito) enlists former star Holt Farrier (Colin Farrell) and his children Milly (Nico Parker) and Joe (Finley Hobbins) to care for a new-born elephant whose oversized ears make him a laughing stock in an already struggling circus. But when they discover that Dumbo can fly, the circus makes an incredible comeback, attracting persuasive entrepreneur V.A. Vandevere (Michael Keaton), who recruits the peculiar pachyderm for his newest, larger-than-life entertainment venture, Dreamland. Dumbo soars to new heights alongside a charming and spectacular aerial artist, Colette Marchant (Eva Green), until Holt learns that beneath its shiny veneer, Dreamland is full of dark secrets.
Where did Dumbo film?
Much of the filming took place on the famous stages of Pinewood Studios with huge scale lavish set builds at Cardington Studios in Bedfordshire. Cardington Studios is a unique alternative build space boasting an incredible height of 180ft which allows production designers to build imaginably without restriction. Cardington has been home to many blockbuster films including The Dark Knight Trilogy, Fantastic Beasts & Where to Find Themand Rogue One: A Star Wars Story. Nearby Arena MK provided the perfect rehearsal space for the cast of dancers, as well as accommodation being located just 30 minutes from Cardington Studios.
Hertfordshire Specialist Filming Expertise
Hertfordshire based Acrobat Productions became an integral part of the creative team on the production, providing vital circus choreography, casting and consultation. Acrobat Productions was established by retired acrobat Roger Robinson in 1993 and over the past 25 years have developed into the UK's leading circus creative agencies & consultants for live events, TV, film & media.
---
"It was a dream project, for a kid who grew up dreaming of being in the circus and the movies it was a huge privilege to be invited by Disney to contribute to this wonderful project.
I spent six wonderful months developing ideas and choreography for some of the iconic circus clown scenes as well as providing casting assistance, circus consultancy and circus prop hire. It was such an epic shoot on all levels and it was an honour to work alongside an unbelievably talented cast & crew"
– Roger Robinson, Creative Director of Acrobat Productions
---
For more information on Acrobat Productions please visit www.acrobatproductions.com.