March 31, 2021
Netflix and Drama Republic:
The Irregulars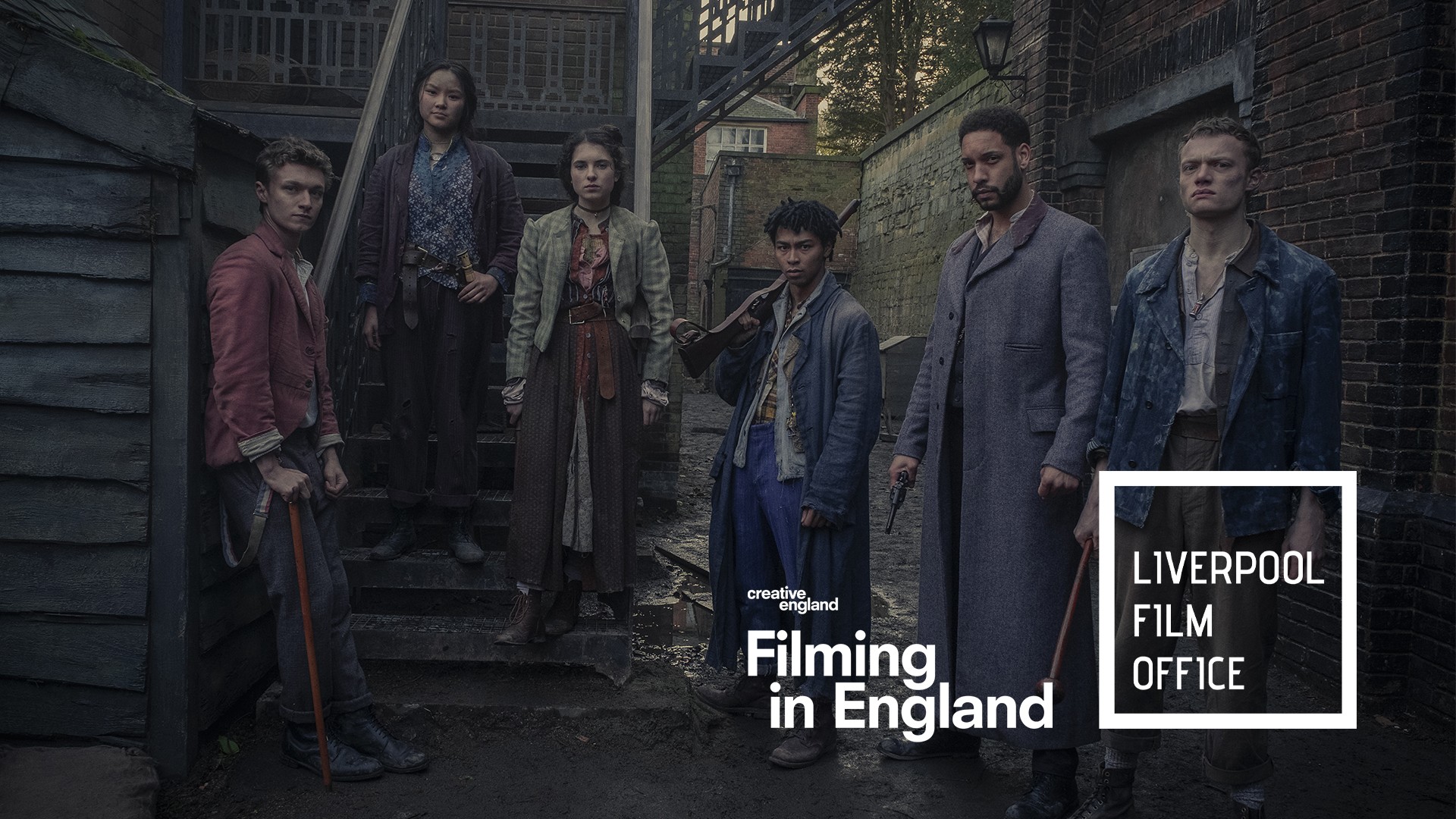 As the country's HETV Production Industry continues to pioneer safe, creative and innovative working practices in the times we live in, Netflix have released The Irregulars, a series depicting the investigations of a Victorian group of misfits working alongside the period's best-loved superheroes, Sherlock Holmes and Dr. John Watson.
Produced by Drama Republic (Us, Life, Black Earth Rising, Doctor Foster), the production is one of several filming in England who were made to pause due to the outbreak of Covid-19 around this time last year – and to come back during the pandemic to complete, going boldly where no production had been before whilst on location, mostly in Liverpool, with the support of Liverpool Film Office, and with additional support from Filming in England in other areas.
The challenges caused by Covid-19 made The Irregulars and wider industry do as they do best; create, by navigating difficult situations and constraints, all the while ensuring their vision was met and achieved. In normal times alone, the results would be admirable; the response from industry and their approach in these circumstances deserves much higher praise.
Remarkably, this is not the only ground-breaking act undertaken by The Irregulars. It's also the first time that, with the support of Liverpool Film Office, they were able to take on new crewing entrants from local academic institutions of young people looking to break into industry.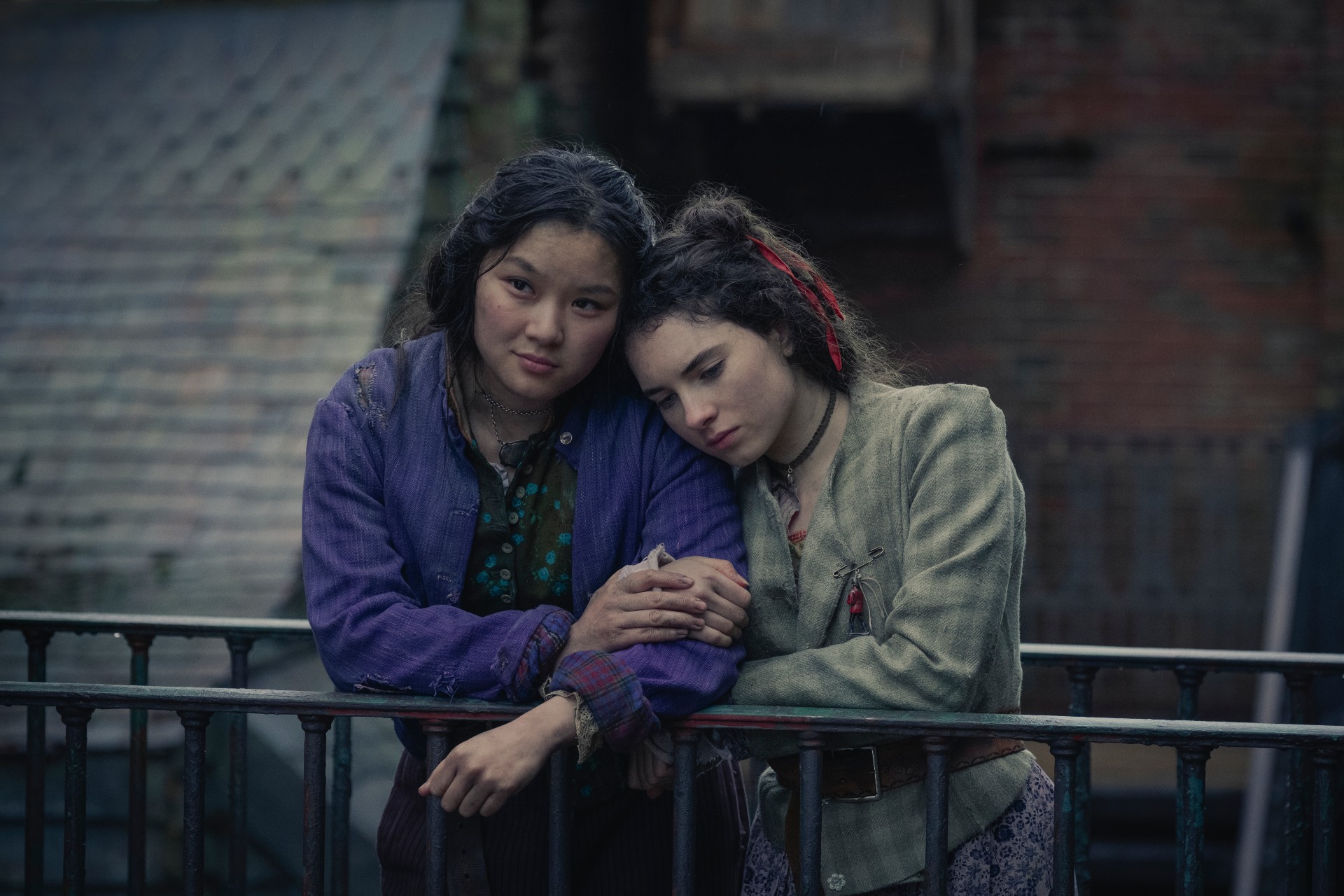 Liverpool Crew (LMA Trainees)
Netflix and production company Drama Republic established a pivotal partnership with Liverpool Film Office and media, music and performing arts institute LMA for five new entrants to get their vital first on-set experience.
The pilot scheme is part of the Liverpool Film Office's LCR Screen Workforce Strategy to develop an industry-led talent development pipeline.
The trainees worked in various departments of the production, including locations, camera, props and production office, earning behind the scenes experience mentored by seasoned professionals, which has propelled them into jobs on more productions in the region.
Harvey Shaw initially expressed interest in working in the camera department and editing, but once on set Harvey got talking to the Unit Manager and Locations Assistant at the beginning of the shoot, his interest in Locations Management grew.
Harvey Shaw, Location Assistant (LMA Graduate & Location Trainee on The Irregulars)
"When you're doing short films at University you have a crew of about five people, then you go into your first job! The Irregulars was a big shoot with a crew of about 20. There's cast members walking around that you've seen on TV, so, you just sort of get blown away by it all but you have to keep a bit of a lid on it and stay professional. In locations you can sometimes do 70+ hours a week and doing that you've got to make that job your entire life, but it's really good and I wouldn't have it any other way."
Since completing his trainee role on The Irregulars, Harvey has gone on to work as a Location Assistant on two feature films and a TV drama in Liverpool.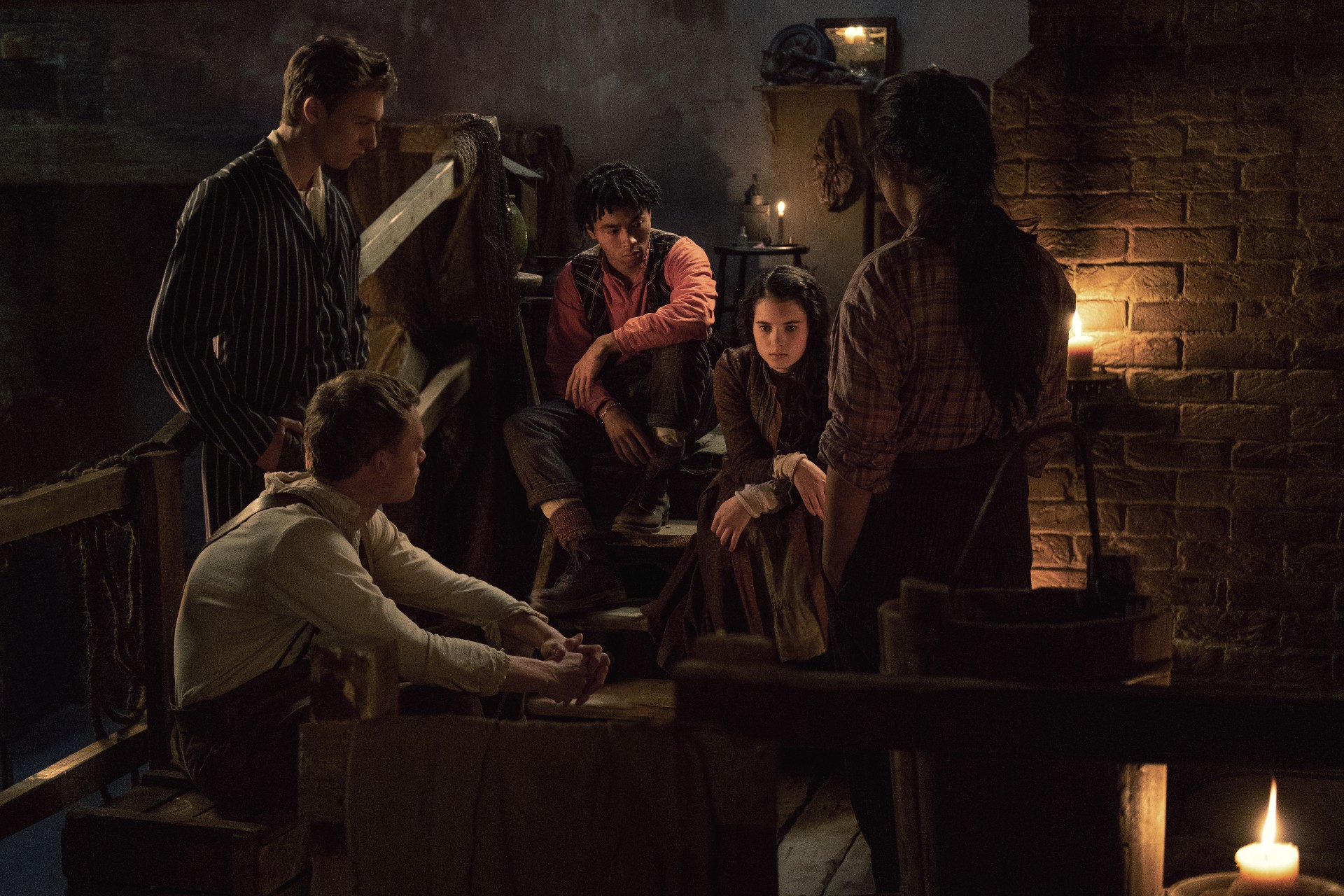 Filming in England's Crewing Service – The Industry's Eyes and Ears
The North West isn't just a major locations player in film & TV; the region also plays host to an impressive (and ever-growing) crew hub, boasting everyone from runners to key crew to HODs to producers. And so, its unsurprising The Irregulars' team were keen to use as many talented locals as possible. Filming in England's National Crew & Facilities Officer Sam Rifkin was on hand throughout the shoot to help the production find exactly who they needed, every step of the way.
Our national crew database proved a fantastic asset for the production team who searched for everyone from Art Directors to Script Editors to Production Secretaries to Make Up Artists – not just in Liverpool, but across the whole of the North West. Our service offers productions a high calibre of quality crew from all experience levels, and ensures crew are kept up to speed with exciting and relevant opportunities.
From offering suggestions for those core roles to sending out last minute calls for dailies, our crewing service is imperative to huge dramas like The Irregulars where it's all systems go. Jonathan Leather, Line Producer on the production reiterates just how crucial a service it is:
"I use the crew database on all my productions, it's a great platform for finding new crew and also reconnecting with colleagues from previous productions who have subsequently moved up within their department. The availability tool is also a great feature, so please remember to keep your profile up to date!"
With the North West booming and requests for crew increasing by the day, there's definitely an onus for crew to get registered for when another drama like The Irregulars comes calling.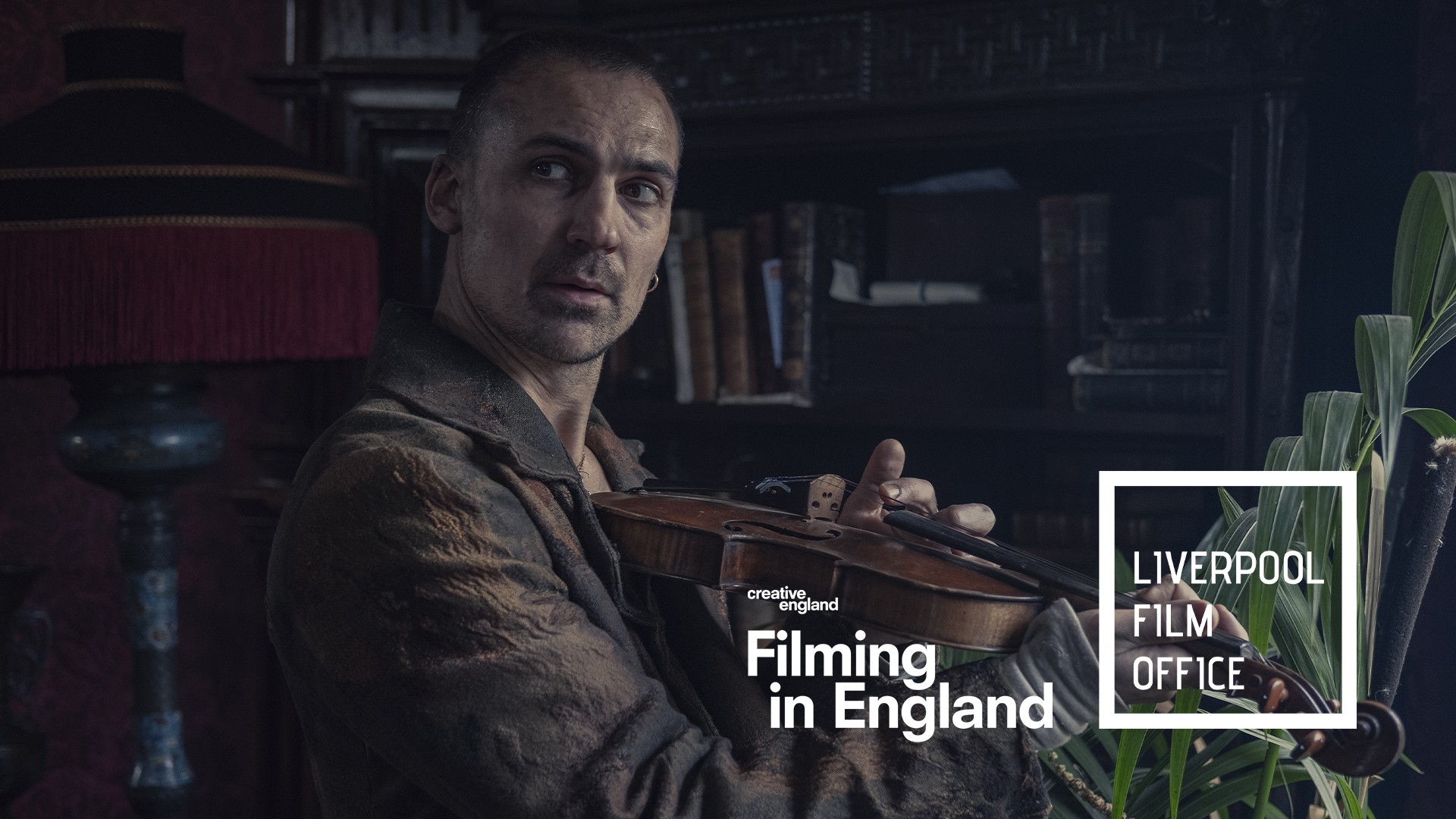 Liverpool Film Office – Locations and Production Support
The Irregulars marks the latest high-end production to film in Liverpool as Victorian London, following productions such as Searchlight's Tolkien, Netflix's The English Game and BBC's The War Of The Worlds.
Liverpool Film Office partnered with Netflix and Drama Republic on The Irregulars, assisting production from early locations scouts, sourcing set build space and production office, through to supporting production getting back up and running after the COVID shutdown.
Head of Liverpool Film Office, Lynn Saunders worked with production from very early stages through to the virtual premiere before global release.
"Partnering with Netflix and Drama Republic on The Irregulars to create Liverpool's latest version of the world of Sherlock Holmes was incredibly exciting. The quality of locations really stand out in the show, as the city region's scale of period architecture sees Croxteth Hall, St George's Hall, Town Hall, Birkenhead Park shine, but creating Liverpool's own version of 221B Baker Street in the Georgian Quarter is simply iconic.
It's always a pleasure working with such fantastic crew and LMA's talented graduates, now with top-class experience are a huge boost to Liverpool City Region's film & TV crew base."
The city of Liverpool, the North West and Yorkshire provided truly spectacular locations for The Irregulars – there is a wealth of stunning locations to choose from in the region, matched by a tremendous enthusiasm and welcome from location owners. Liverpool Film Office, Screen Manchester, Screen Yorkshire and the Filming in England team all provided superb support throughout production and made a very challenging job much simpler. It is very clear that the filming infrastructure in the north is very strong, and it continues to produce fantastic results. The Irregulars is a true testament to that.
Andrew Bainbridge, Location Manager
Filming in England: Filling the Gaps
Outside of areas under the jurisdiction of Local and Regional Film Offices, Creative England's Filming in England Team partner with Local Authorities across the country outside of the capital to ensure that it remains a world-class destination for location filming of HETV and Features.
Jonny Shelton, Production Liaison Manager for the North West and Midlands in the Filming in England Team, supported The Irregulars when shooting in such areas:
It was a pleasure to assist the Locations Team on the production when they were shooting in areas close to Liverpool, Manchester and Yorkshire. Our Film Office Partners in Liverpool Film Office, Screen Manchester and Screen Yorkshire are essential for the success of production both in their areas and otherwise, as their level of service means the production expect a level of consistency across the board, which is where we come in. The whole basis of our service to HETV and Feature is to ensure productions have the same experience wherever they are shooting.
Our contacts in Local Authorities, Local Police Forces, other notable land owners and such like streamlines the needs of production and ensures these areas feel the economic benefits of a production's presence, and otherwise.
I'm very proud to say the work we do is enabling, and that Location Managers and Dpts know they can come to us to assist with contacts, road closures, finding locations and providing suggestions and ideas against our local knowledge and that of our partner's too – industry only keeps growing in these places too, it's very fulfilling and this production, like the others we work with, was a pleasure and the on-screen results speak for themselves".
For more info on the Filming in England Team, please visit www.filminginengland.co.uk
For more info on Liverpool Film Office, please visit https://www.liverpoolfilmoffice.tv/
Stream all episodes of The Irregulars now on Netflix