January 10, 2020
It's one of the most notorious events in British history, and a scandal that shook politics to its core. This winter the BBC airs their version of what ultimately became 'The Profumo Affair' – The Secretary of State for War, John Profumo's relationship with the eponymous Christine Keeler. A 19- year-old model, in 1961. Written by award-winning novelist and screenwriter Amanda Coe, the drama delves deep into both the intimate and national upheaval that by 1963, had made Christine one of the world's most infamous women.
Where was it filmed?
Though the real-life drama played out against a London backdrop, this compelling new series was shot almost exclusively in the South West, with production setting up home in Bristol's fantastic Bottle Yard Studios. The BYS team described the experience of accommodating the production, which included purpose-built sets housed within a staggering 15,000 sq ft space. Fiona Francombe, Site Director of the Studios told us:
Ecosse Films was no stranger to Bristol having made three series of Mistresses here. Douglas [Rae, Producer] first came out to take a look around our Studios in 2017 and we were keen to have them back for a future project ever since. It was a great pleasure to welcome them to The Bottle Yard for the making of this iconic and intriguing political drama.
With a very specific time period and locations to replicate, Bristol has helped pull off a marvellous feat in bringing London in the early 60s back to life. Bristol Film Office echoed their delight with the shoot, and not to mention, the impressive stats which a production like The Trial of Christine Keeler generates. Natalie Moore, Senior Film Officer at Bristol FO stated:
The Trial of Christine Keeler features the largest number of Bristol locations used in a single drama for years, which is fantastic to see. Productions like this are bringing a great deal of employment and investment into Bristol, more than £16 million last year
Not straying too far, production also selected Bath to play host to some of Christine Keeler's key scenes. With its stunning scenery, the city provided the perfect backdrop for the glitz and glamour of Christine's world. Rachel Bowers of Bath Film Office spoke highly of the shooting experience:
There aren't many period court rooms left available for filming, so we were delighted to offer Bath's Guildhall, to film the key Old Bailey scenes.
Abbey Green was also used for a scene set in Notting Hill. We worked closely with the production to ensure they got the access they needed to these wonderful heritage locations, while also keeping what is a busy civic building open to the public
How did Creative England Support?
So, with everything smooth sailing on the locations front, where exactly did Creative England come into play?
Creative England's Production Services team provide a one stop shop for the industry with our crew and location facilitation. Working in conjunction with our nation's film offices, we offer production support to both domestic and international projects shooting in the regions, outside of London.
Samantha Rifkin – our National Crew & Facilities Officer – was on hand to ensure the team found exactly who they needed for their production.
The national crew database is an excellent source for industry; it allows us to connect our crew to the production and to act as that crucial intermediary.
I always make sure I work closely with the core production team to find out exactly who they need, with regards to location, skillset, availability etc. Ben [Greenacre] contacted me in very early prep to ask for help in finding his key crew, and we were able to send him several suggestions. Likewise, I am always in touch with our freelancers to ensure their CVs are up to date, so we can send off their details to the production asap.
I think perhaps there may be a misconception with our database that we can only help the 'on the ground' production crew, but this isn't true. We also help with the sourcing for HODs as well. For Christine Keeler, we sent job posts for Accountants and Assistants, and sent over the CVs of South West based Graphic Designers, Production Managers as well as dailies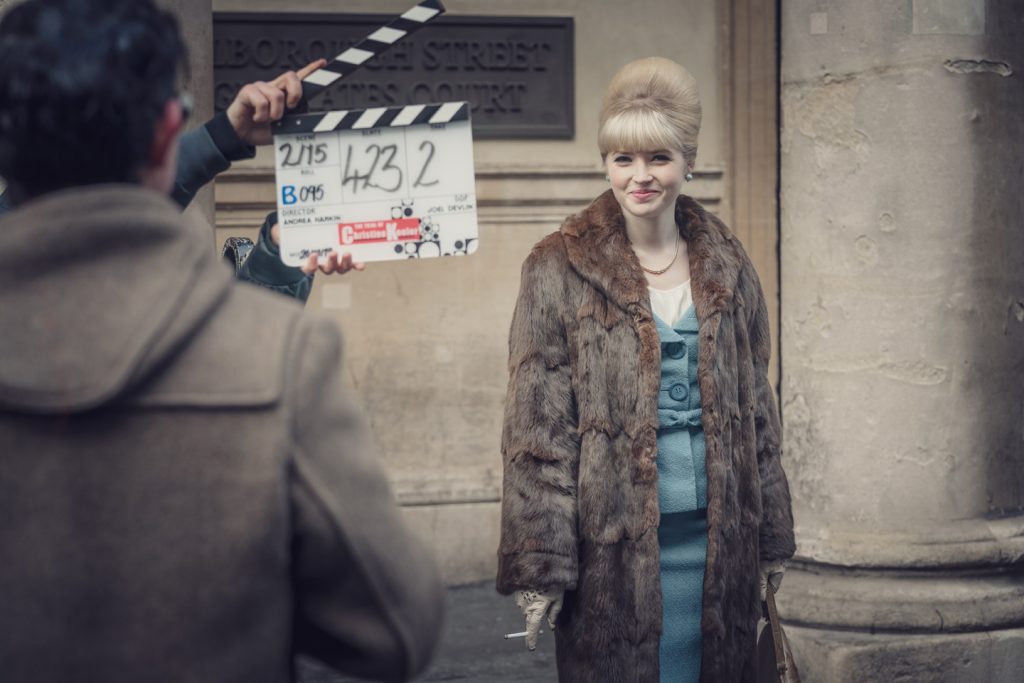 Crew database member, and Assistant Production Co-ordinator on the production, Chris Bevan, echoed these sentiments, and praised the efficiency of our crewing service:
Having used them numerous times, Creative England have always been a fantastic tool for sourcing crew during productions. Their connections always have a positive impact on any job!
Only a few episodes in, and The Trial of Christine Keeler already has viewers hooked. Whether its for the history, the story, or just curiosity, be sure to check out this stunning production, and admire the work of those who made it all come together.
The Trial of Christine Keeler is available on BBC iPlayer.