May 27, 2021
The Beast Must Die is a new British revenge thriller adapted from the classic murder mystery novel. This drama was shot solely on the Isle of Wight in 2020 and is BritBox's first ever original drama. The gripping thriller is about a woman who sets out to murder the man she believes has murdered her son.
Bafta-winner and Golden Globe and Emmy-nominated actor Jared Harris (Chernobyl, The Crown, Mad Men) leads this impressive cast and will star alongside, Cush Jumbo (The Good Wife, Deadwater Fell), Billy Howle (MotherFatherSon, Witness For The Prosecution, On Chesil Beach) and Nathaniel Parker (The Inspector Lynley Mysteries, Vanity Fair).
Filmwight is the newly launched official Film Office for the Isle of Wight who was on hand to ensure the production ran smoothly and utilised all the versatile locations the island has to offer. Creative England are proud to have Filmwight as part of Creative England's Emerging Film Office cohort and members of the Filming in England Partnership.
The Isle of Wight MP Bob Seely mentioned recently in an article about the launch of Filmwight, that "Creative industry jobs are valuable. When the BritBox series, The Beast Must Die, was filmed on the Island last year it brought in tens of thousands of pounds a day."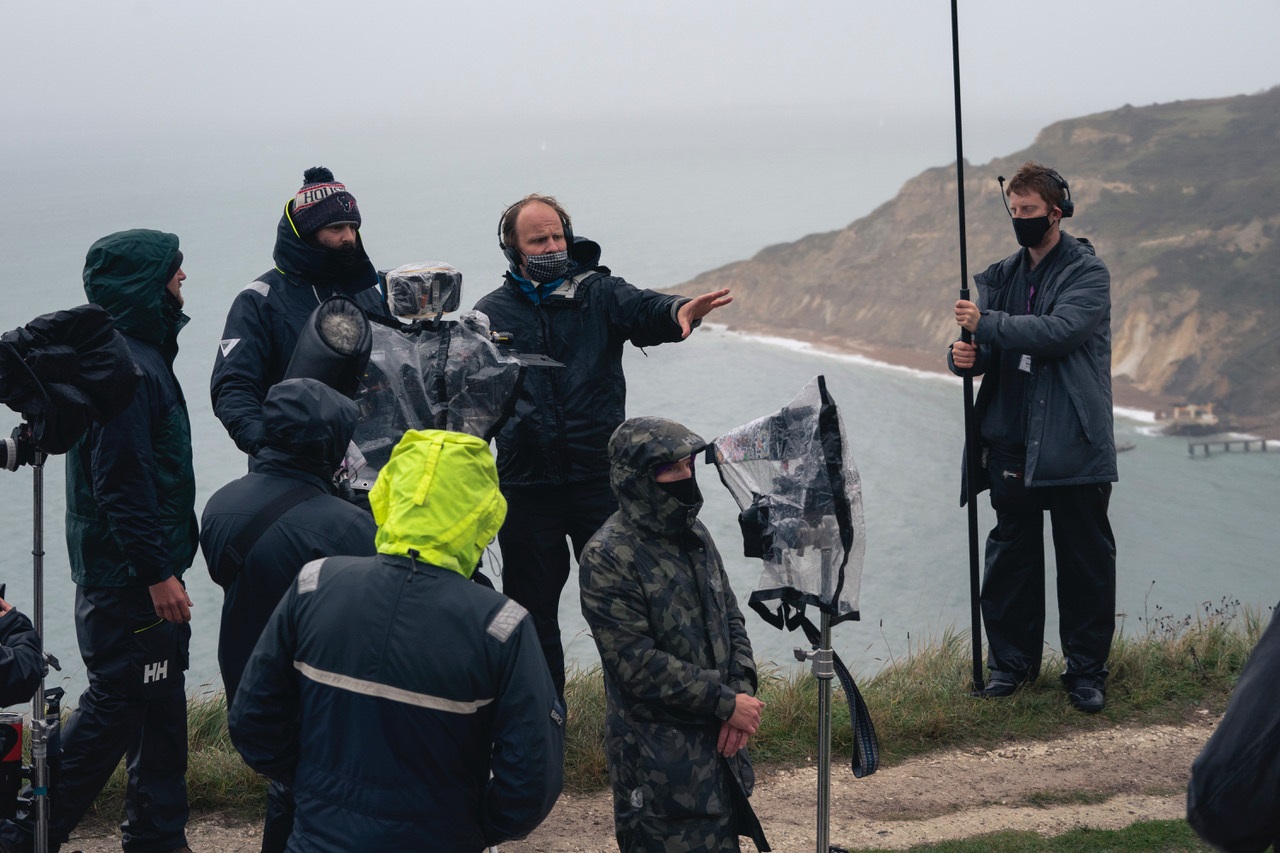 Meeting people off a ferry to the Isle of Wight is a fairly normal event for Filmwight's Film Officer Dave Russell, but this day was different.
It was September 18th 2019; he was picking up Executive Producer, Ed Rubin, Supervising Producer, Joanie Blaikie and Screenwriter Gaby Chiappe for a tour of the Island locations.
Travelling around 70 miles in just one day isn't very far, which is what makes the Island so unique, numerous locations within easy reach of each other. It was clear they were impressed and committed to bringing the production here.
Filmwight, together with Wightlink Isle of Wight ferries, organised substantial discounts to allow production crew to bring their vehicles across from Portsmouth to the Island. Filmwight also found a unit base for the crew on the outskirts of Newport, while new Island firm, Lobster Locations, supplied a number of properties for the production.
After delays due to Covid 19, production began in late August 2020 with film crew taking up residence in Woodside Lodges in Wootton. They were originally due to film on the Island for 6 weeks and then 4 weeks in London, but eventually shot everything on the Island due to the pandemic.
Working with Island businesses, the crew soon found the Island had a wealth of experience. Island firm AMP Hire Ltd provided facilities, like toilets, fencing and buggy hire, while hundreds of extras were supplied by the Island People Agency. Generators and rigging were also supplied locally by Spyder UK, while Island resident, and professional set builder Tom Symes lent his skills to the production.
"Considering we were in a pandemic the shoot went very well and replaced the income we lost from all the cancelled festivals and events we normally cater for each year. We supplied everything you could imagine from buggies and drivers to on location toilets and sanitation. It was a very unusual ask and we certainly enjoyed being involved, and would happily supply and other film crews visiting the Island."

– Lee Priddle, Director, AMP Hire Ltd.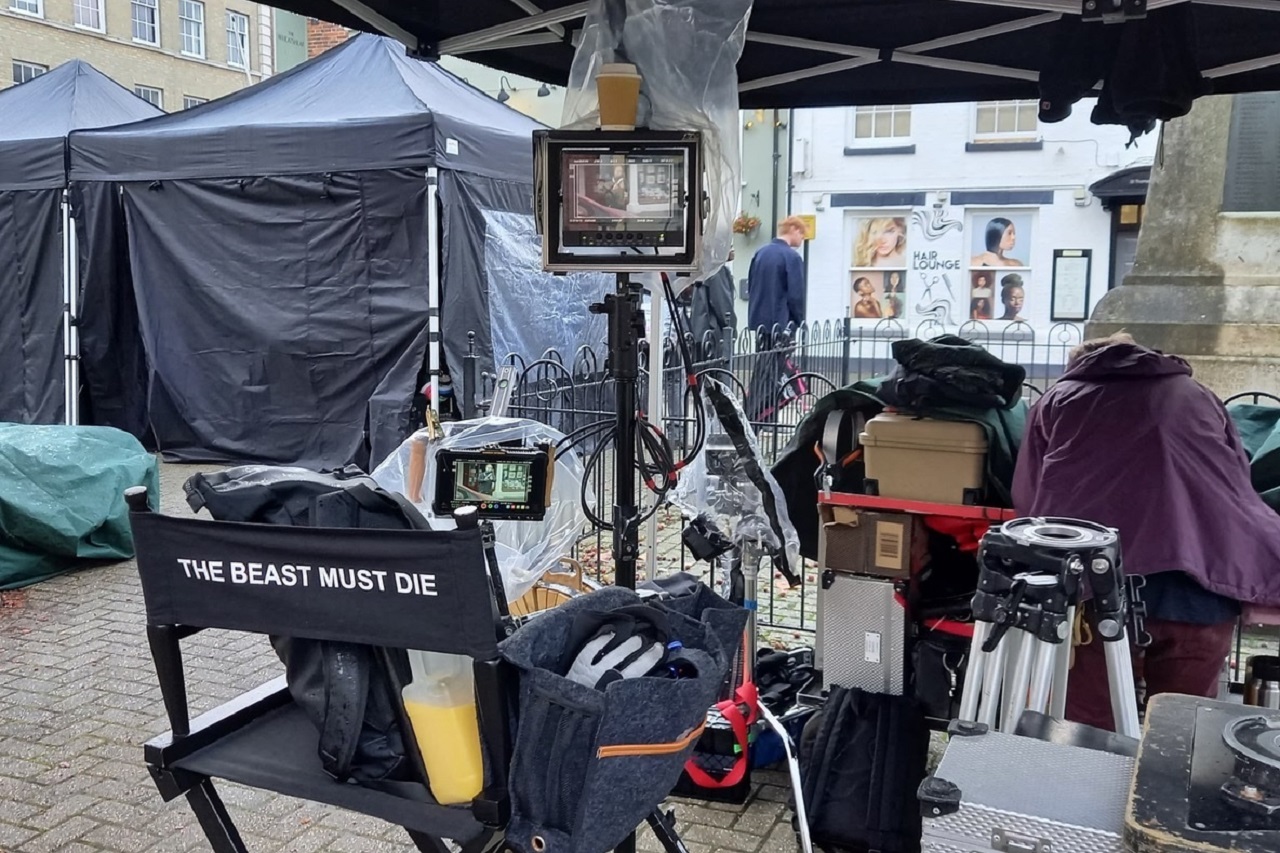 The filming certainly wasn't without its challenges; Ryde swimming pool was converted for underwater filming when Covid restrictions prevented the use of a dedicated tank. The crew also endured 5,000 Coronavirus tests during the shoot.
With more sunshine hours than anywhere else in the UK, the Isle of Wight is just two hours from London with a mix of grand, rural, suburban and coastal locations. Villages are plentiful along with Industrial spaces that are in easy reach of each other. Many of them can successfully double as less accessible overseas locations.
To see an interview with Ed Rubin, Executive producer of 'The Beast Must Die' please click on the link: Living An Island Life – While Filming a TV Drama
The Beast Must Die is available to stream on Britbox from Thursday 27th May – https://www.britbox.co.uk/
For more information on Filmwight visit www.filmwight.com