September 9, 2021
The North West of England has, in recent years, become a booming production hub for High-End Television Drama and Features, for both domestic and international producers. There are various reasons for the continued and growing successes in production for the region – key amongst those being the offer of Production Services available from both Liverpool Film Office and Screen Manchester, plus ourselves within Creative England's Filming in England Team.
In addition to the recent production boom in the North West, the region has a rich history in innovation and establishing new talent. Perhaps best encapsulated within the Production Industry by internationally acclaimed screenwriter and producer Paul Abbott. Originally of Burnley, Paul Abbott's best-known works have regularly featured the North West, to the point where their placement within the narrative is almost as central to that of the characters. From Shameless (both in the fictional MCR estate of Chatsworth and across the pond) to No Offence, with a plethora of further writing credits in between, Paul Abbott's mastery captures life for different parts of society in the region both beautifully and poignantly, time and time again.
As we expect to be the case with the latest incarnation of his work. Cue Wolfe, Abbott's latest work being broadcast by Sky.
Babou Ceesay (Rogue One) becomes Professor Wolfe Kinteh, whom Sky have described as being a 'forensic powerhouse and North England's finest crime scene expert' in this thrilling forensic drama.
As of Friday 10th September 2021, all episodes of Wolfe will be available on Sky Max and NOW TV – in celebration of the transmission, we've spoken to some of the key personnel involved with the facilitation of its location shoots in the region.
Salford City Council
The Locations and Unit Team on Wolfe came to Creative England's Filming in England Team as they were looking to safely manage traffic in a busy, urban and residential area of Salford. Salford City Council worked closely with the Filming in England Team to ensure the team could administer their plans, after the Locations and Unit team had met with the council and reps of the FIE Team on site and spoken to the local residents.
Salford City Council always bend over backwards so productions can get the work done that they envisage from day one:
"Salford is home to the outstanding MediaCityUK and the thriving ITV and BBC hubs, plus historic and popular film locations such as Ordsall Hall, Bridgewater Canal and Salford Lad's Club. We are also enormously proud of our 'urban and gritty' street scenes, highways, underpasses, and shopping precincts, used for those more dark and original modern UK dramas, soaps and comedies, plus fashion photo shoots for high end magazines and a host of international sportswear and fashion companies. The encouragement we received from Creative England to include and open these often brutal, raw, municipal locations to film makers and location scouts has established Salford as a film friendly city both in the UK and internationally. I would like to thank Creative England for the journey they have taken us on."
Salford City Mayor, Paul Dennett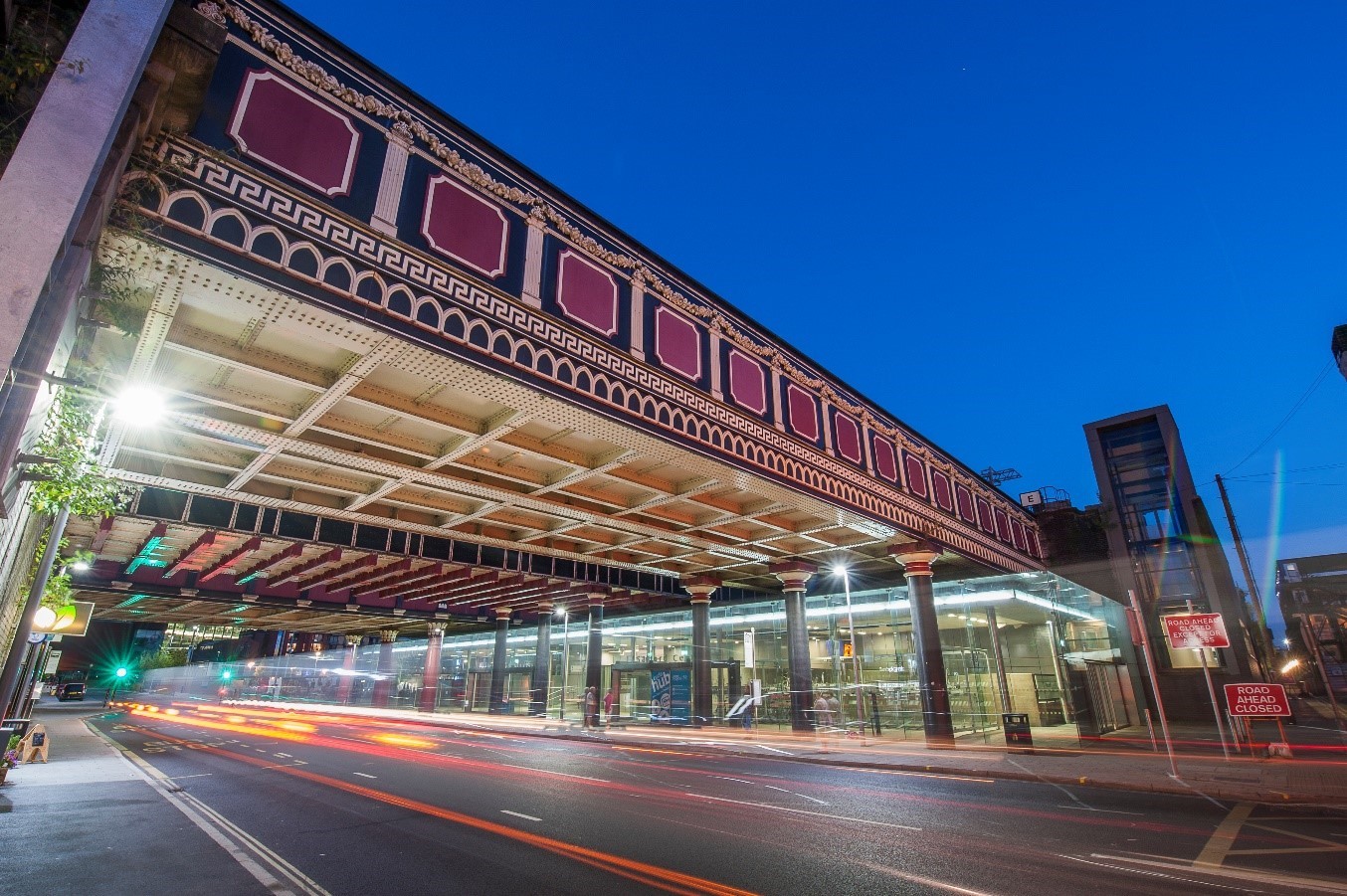 Rochdale Borough Council
One of the key locations for Wolfe's shoot can be found in Heywood, Rochdale (Greater Manchester), on the edge of Queens Park – Queens Park Bridge.
The production undertook shooting here in 2020, which included stunts with a large and responsible crew present to safely administer their plans. From the initial stages of planning, the Locations Team, Rochdale Borough Council and Filming in England Team's North West Production Liaison met at the site to discuss viability for not just the shoot, but access and parking for their essential vehicles and parts of their unit.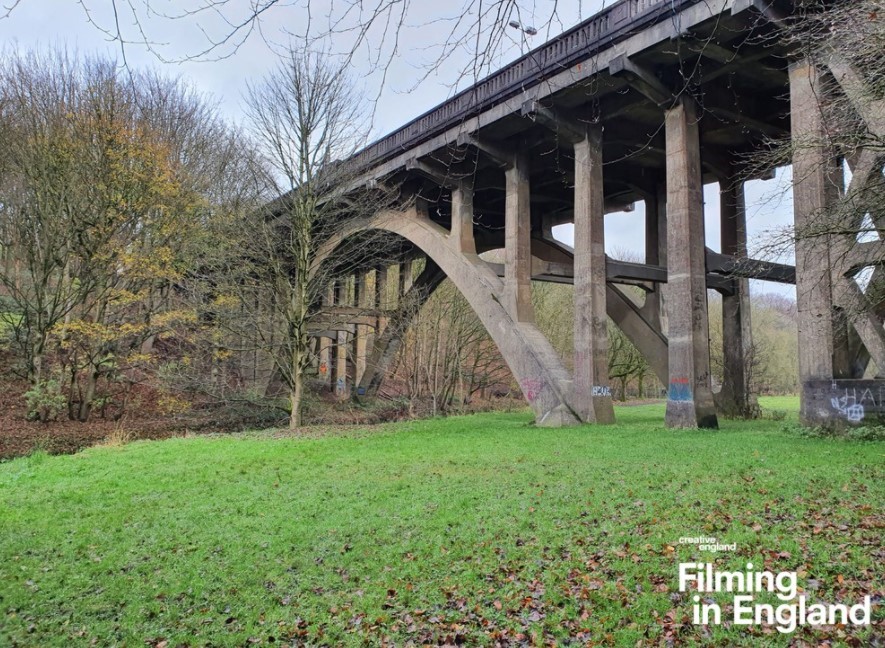 Rochdale's Parking, Parks/Greenspaces and Highways Divisions worked flexibly and tirelessly to ensure that their assets could house the production and work as the perfect backdrop to the narrative. Ian Trickett, Greenspace Development and Countryside Manager, encouraged others to come and see what the borough of Rochdale has to offer:
"Rochdale Borough Council welcomes media production companies to the Borough. We have a range of special filming locations which may meet your filming needs and are happy to work with you on your specific requirements. The contact for any parks / countryside sites is ian.trickett@rochdale.gov.ukand for all other locations should go through our comms team at communications.team@rochdale.gov.uk."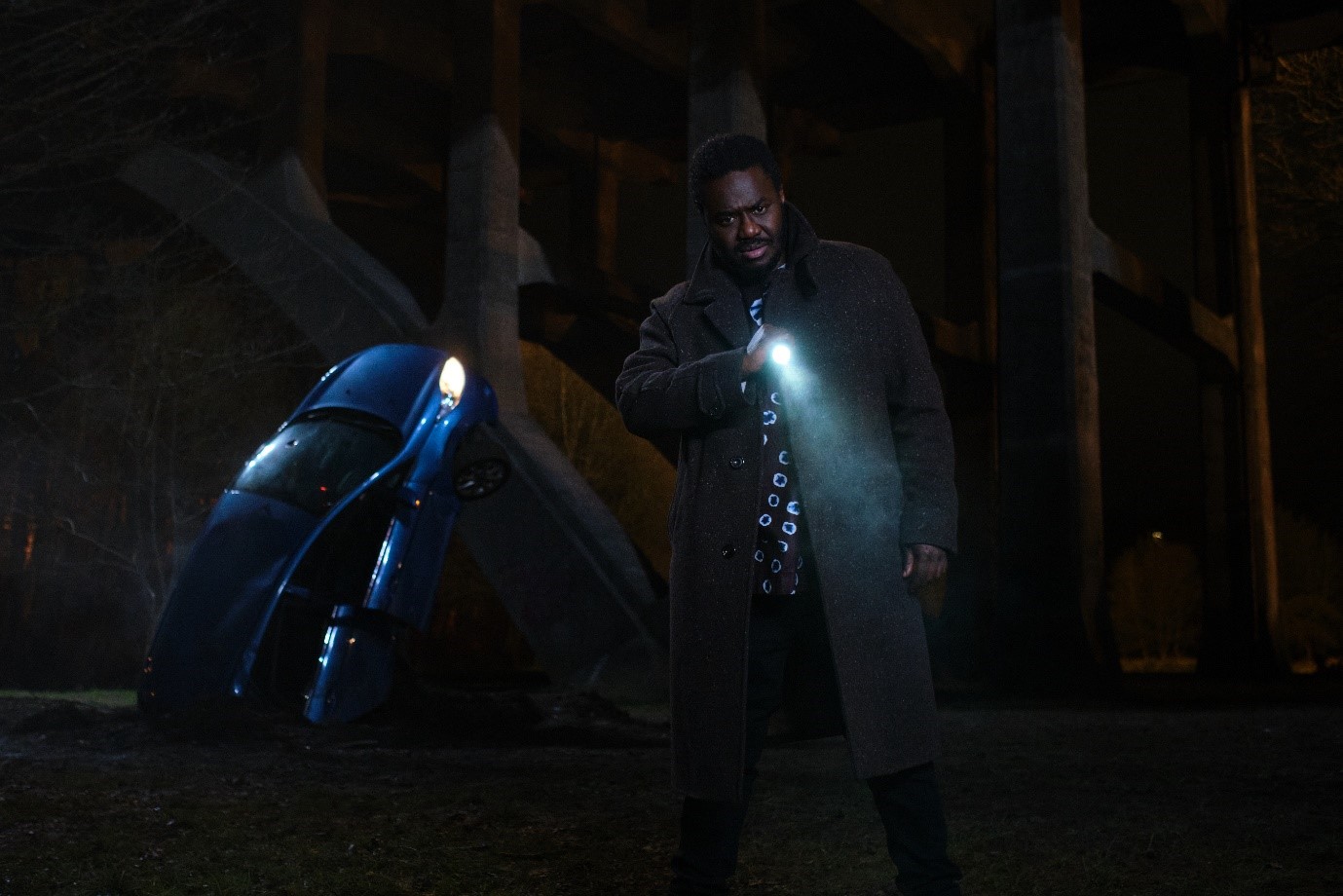 Tatton Studios
Located on the family-owned Tatton Estate in Cheshire, Tatton TV & Film manages the estate's ever growing 5000 acre studio complex – including both workspaces and a wide variety of unique filming locations. In recent years, Tatton TV & Film have welcomed some of the biggest players in production – such as Netflix, BBC, Fox Searchlight, ITV, Channel 4 and Sky. Therefore, the team are expertly adapted a wide spectrum of HETV and feature film, having been immersed in the likes of Peaky Blinders, Tolkien (2019) and Curfew (2019).
When Wolfe arrived in 2021 to commence shooting, the team at Tatton Estate once again transformed their studios to accommodate the production as its primary home. Managing Director Henry Brooks explained how the team were thrilled to welcome the production team onto the estate:
"We are very happy to have been able to provide Tatton Studios, filming and production solutions for AbbottVision during their time with us here at Tatton TV & Film, especially through challenging times with regards to the pandemic. Tatton TV & Film were able to provide Covid secure studios, production offices, workshops and accommodation during the filming of Wolfe and as with any production, there was never a dull moment. Set builds never cease to amaze us – one minute you're standing in an empty studio, the next you're in a Crime Lab! Truly a wonderful team to work with, we can't wait to see what adventure Paull Abbott's amazing team and Wolfe takes us on!"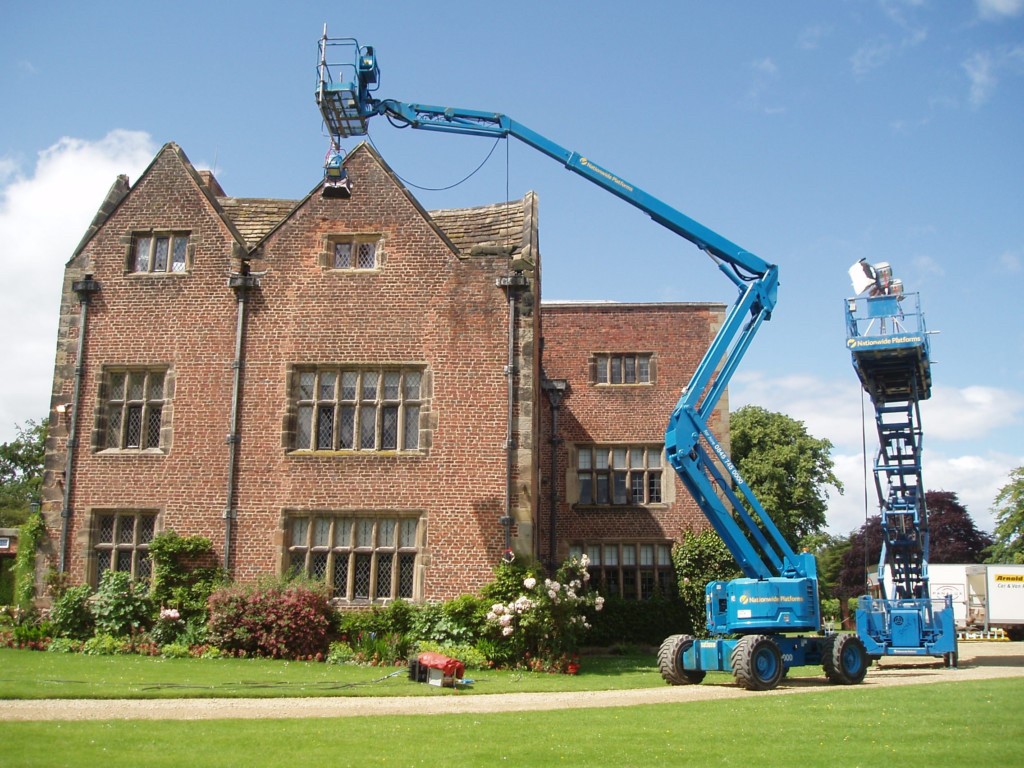 Arley Hall and Gardens
Arley Hall is no stranger to having the biggest and best of TV within their walls – most notably as Thomas Shelby's country pile, but certainly not exclusively, playing host to COBRA, Feel Good, Our Zoo and Evermoor to name but a few.
Word has spread around industry that Arley Hall and Gardens is one of the most supportive, picturesque and experienced locations. Shelagh Bebington – Commercial Manager – glowingly reflected on having Wolfe in with them, in addition to all others from our industry:
"We love hosting filming here at Arley, and so do our visitors! It brings a completely different atmosphere to the estate as we are invaded by actors, crew and everything in between. It's also great to be involved in a series at its inception; in the hope that it will be repeated of course! The Wolfe team were a pleasure to work with from start to finish and we hope to see them again soon."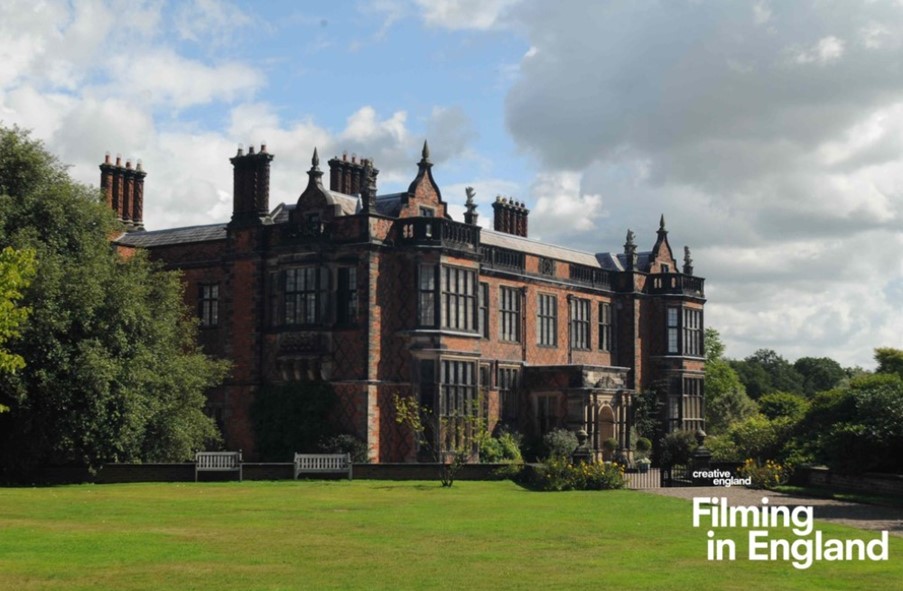 Bolton Council
As our Filming in England Team learnt in 2019, Filming in England partners Bolton Council have worked with a plethora of HETV Dramas in recent years, and there are no signs of it slowing down. The successful combination of responsive and flexible personnel together with empty, blank-canvas locations which allow for the imaginary to become a reality (plus unit bases and local crew to boot) has resulted in sustained production into 2021, which is likely to continue and shows no signs of slowing down. Wolfe, one of several HETV Dramas in Bolton this year, was an exciting and fun production to work with, as their Senior Events personnel Chris Chadwick informed us:
"We loved having Wolfe in Bolton, their Locations and Unit Team were a pleasure to work with. We helped them in Dec/Jan time and they used a couple of our locations, and then came back to shoot some further stuff with a few months after too. We've had a lot HETV productions in our area over the last few years and each one brings interesting stories and challenges to us, which we always support as much as we can, and working with an engaged and approachable screen agency like Creative England makes the process as seamless as possible for all involved. Really looking forward to seeing the on-screen results!"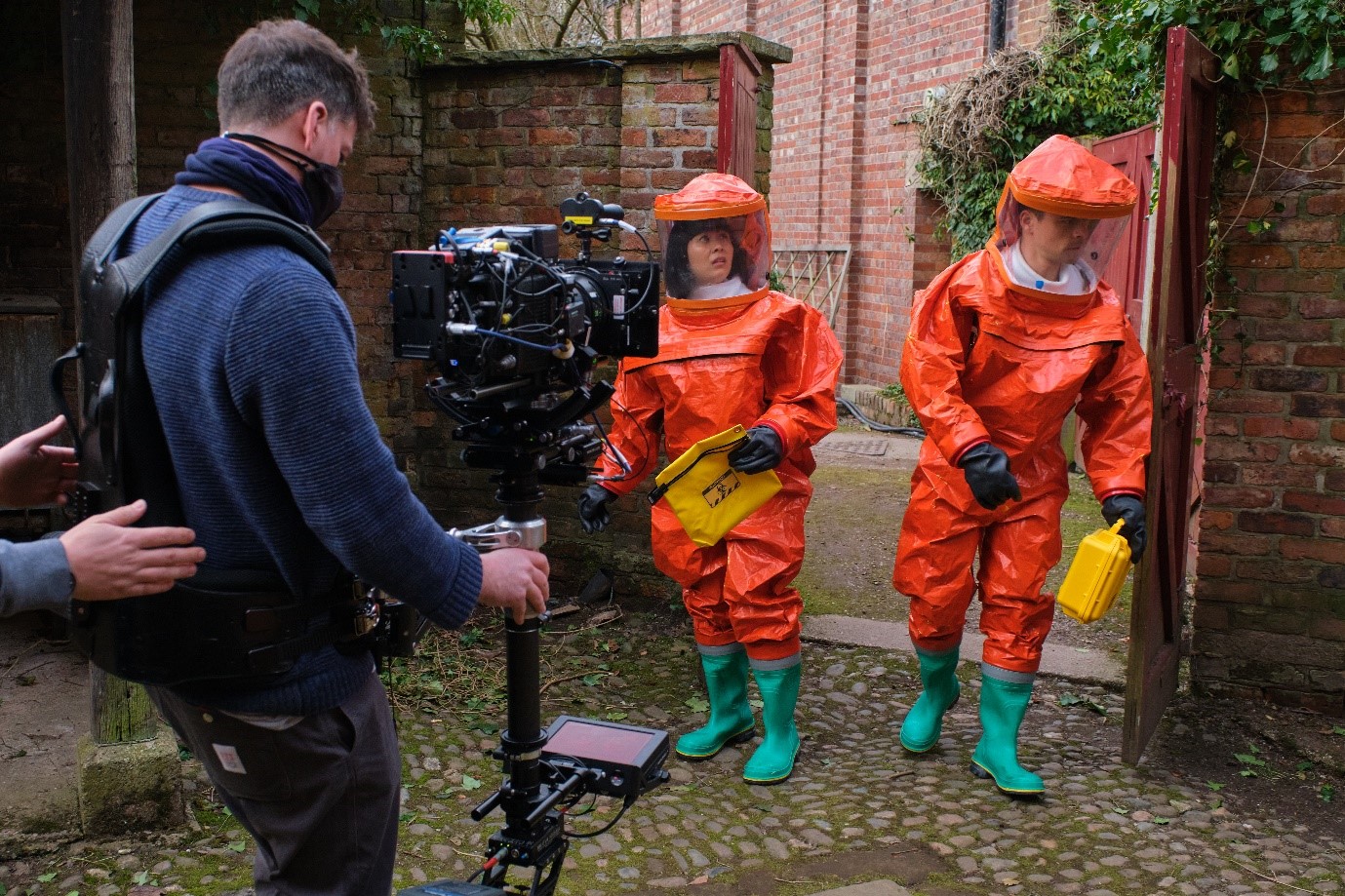 Salford City Council, Rochdale Borough Council, Tatton Studios, Arley Hall & Gardens and Bolton Council are all members of the Filming in England Partnership.
All episodes of Wolfe are available on Sky Max and NOW TV on Friday 10th September 2021.