March 30, 2022
Something ground-breaking is happening in TV at the moment. Ralph and Katie, a BBC/Tiger Aspect spin-off of the smash hit The A Word is in full production swing. And in a total first for British TV, the show has been penned by an entirely disabled writers room featuring the talents of actor and activist Genevieve Barr, Amy Trigg, Annalisa Dinnella, Tom Wentworth and Lizzie Watson. Helmed by Peter Bowker, the show is also directed by and stars disabled talent.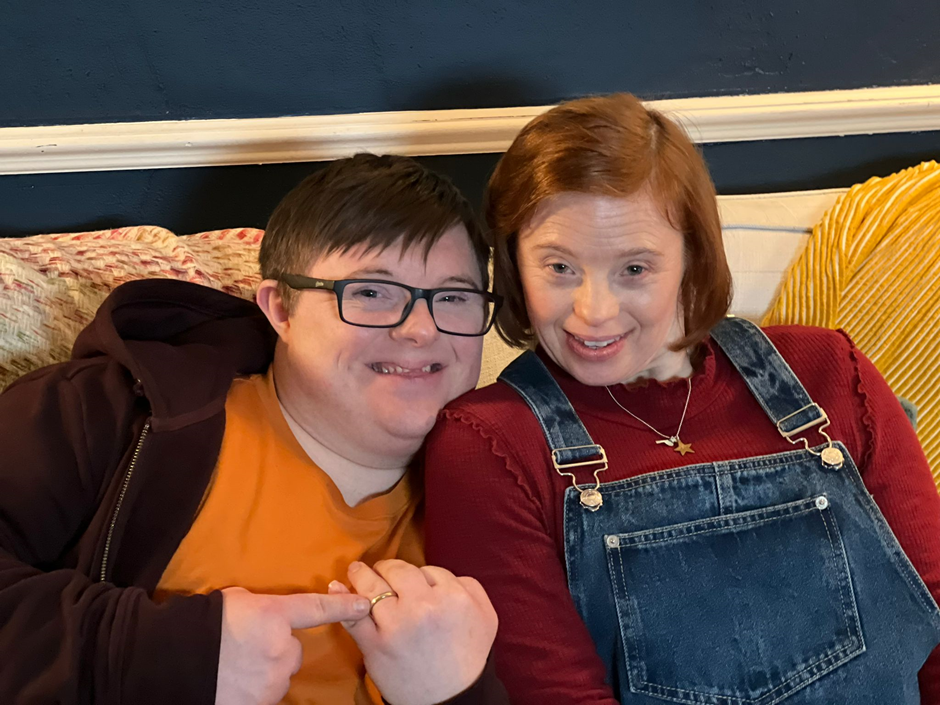 The A Word alumni Leon Harrop and Sarah Gordy return as the titular characters and the story follows the much-loved couple during their first year of marriage and the challenges that Ralph and Katie, who both have Down's Syndrome, face as newlyweds. Said Bowker of his new spin-off:
Ralph And Katie is a natural step forwards from the ongoing ambition of The A Word to increase representation and diversity both on and off screen.
It certainly is a major step for television, particularly in the wake of Help writer Jack Thorne's scathing MacTaggart address last year declaring the industry had "utterly and totally" failed disabled people. A critique not unfounded – disability on screen, where visible, has long been subjected to portrayals ridden with generalised tropes; in-authentic representation. Storylines unable to navigate and metabolize stories that challenge traditional disabled narratives.
Instead, Ralph and Katie looks to be spawning a new, much needed creative template when it comes to highlighting disability for the screen – both in front and behind the camera.
Shooting largely in Manchester, the production have called on the support of fellow North West based organization DANC (Disabled Artist Networking Community) to curate a six-month HETV Remote Trainee Programme. Already underway, the aim of the scheme is to allow 30 disabled, deaf, autistic and neurodivergent people the opportunity to work behind-the-scenes on the 6 x 30-minute series. Crucially, it will give participants at the early stages of their career a fantastic opportunity to learn about location scouting, scheduling, budgeting, set design, wardrobe AND more.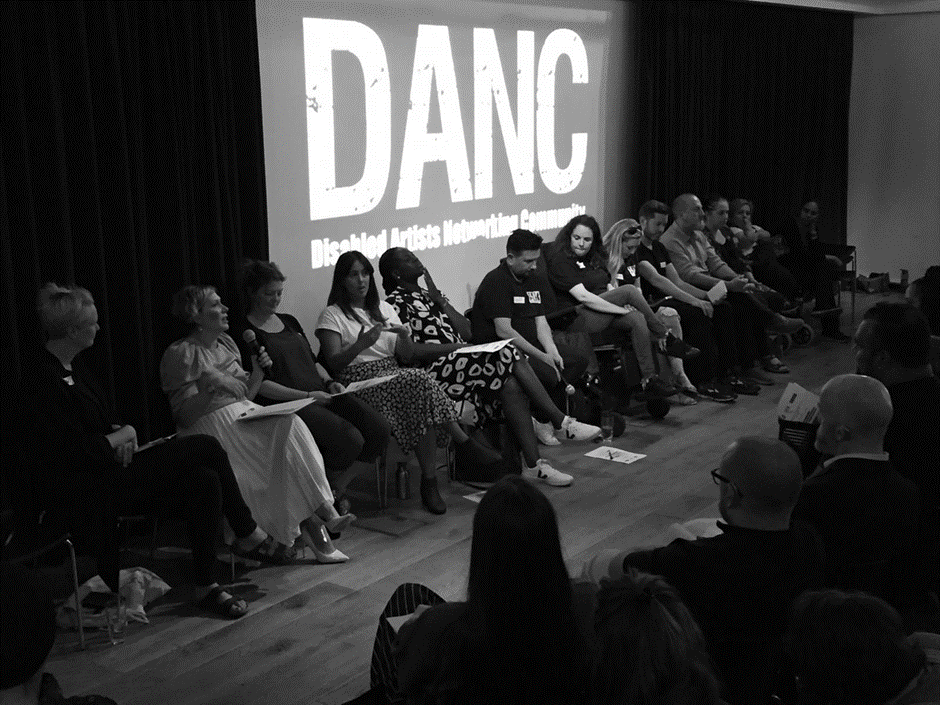 Laurence Clark, DANC's chairman had this to say:
Our HETV production training scheme for Ralph and Katie is hugely important to us. For far too long, disabled, deaf and neurodivergent people have been excluded from working in off-screen roles due to reasonable adjustments not being made. This training is giving 30 people, many of whom already have some experience of working in the industry, a valuable insight into the making of a HETV series. It is hoped that they will then go on to take up other off-screen roles in television, which in turn will positively influence on-screen disability representation too.
Not only that, but Ralph and Katie have also been working with a local-ish supplier, Stand Out Socks, a shop managed by two brothers, one with down-syndrome, inspired to raise social awareness of the condition offering cast and crew a 21% discount.
Life in A Northern Town
Jonny Shelton, Production Liaison for the North West and Midlands within Creative England's Filming in England Team, was contacted by Ralph & Katie's Location Manager in December so they could begin meeting with key personnel in local authorities and other public bodies across the North West, in order to place and service the shoot properly and capture their artistic intentions as smoothly as possible. A few months on from initial discussions, Jonny was also invited to a location shoot by the Head of Department on set.
"It was clear that the production team and crew on Ralph & Katie had made considerations for the needs of their performers. For the sequence they were shooting, the team had requested more frequent stop-and-go traffic management than might be requested for a cast with different needs – but this was because the short periods of traffic holding allowed for a quieter atmosphere in which the cast could prepare on set, with minimal distractions. Breaks were given as and when needed – and I also noticed that each member of the crew were all very calm and relaxed, which might not fit how one would imagine a location set visit to look."
Working alongside key industry bodies, Jonny also illustrates the importance of a strategic and joined up approach when it comes to regional shooting:
"The local authorities in question as well as Screen Manchester and Space Studios have a plethora of experience in supporting drama and have a great understanding of how the sector works – all of which have helped make the shoot very smooth indeed".
Assisting Jonny on the production is Creative England's National Crew & Facilities Manager Samantha Rifkin. Helping the production source as many local crew as possible, Sam has so far helped put the team in touch with their Production Secretary, Floor Runner and has also looked for Art department crew and COVID teams.
"This is a very local production that's looking to spotlight local crew. It demonstrates just how strong a crew hub the North West has, and is a testament to the production with how well they're able to retain key roles. This is a precariously busy time with crew hopping from job to job, but Ralph and Katie is clearly doing something right."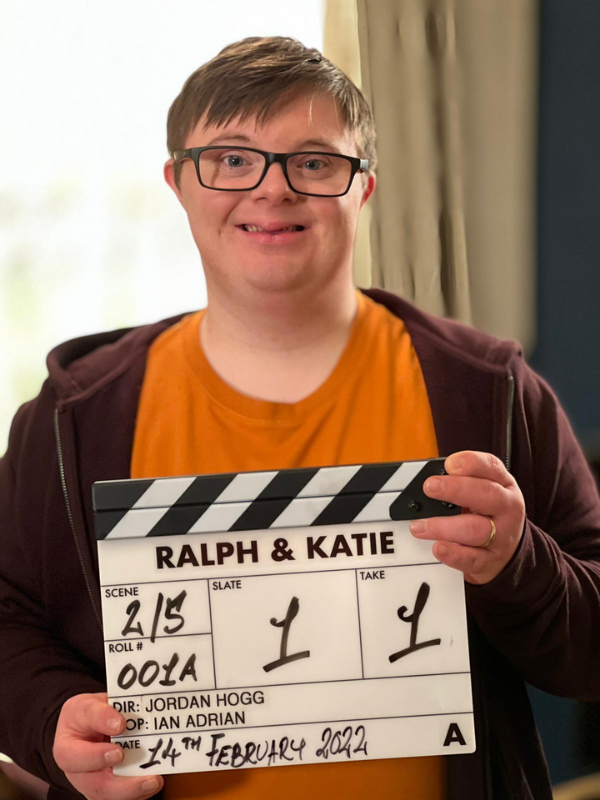 Perhaps for too long, and for too many, our industry has felt like a closed door; an impenetrable one at that. But with programmes like the above ensuring new and underrepresented entrants can see at first hand the career opportunities that exist within high-end television, there's hope for change. And not only that, but with the production also going to great lengths to establish a mentally and physically happy set for both cast and crew, things are certainly heading in the right direction.
In the last 2 years, we have borne witness to the national skills and crew shortage induced complications; how the industry is still acclimatising to this seismic shift. However, the sense of momentum is real. As always, television — because there is just so much of it — is leading the way.
Whilst Ralph and Katie may have only recently entered production, and isn't due to hit our screens until later in the year, we already can't wait to see its impact – and hope it'll be the first in a poignant move for broadcasters to increase their disabled representation – both on and off screen.
Please note applications for the HETV Remote Trainee Programme are now closed.
For more information on DANC please visit: https://triplec.org.uk/danc/
To find out more about Creative England's Filming in England Crew & Facilities service visit here and for all other enquiries please visit: https://www.filminginengland.co.uk/