July 20, 2023
Whether at an empty John Lewis in Birmingham, a heritage railway in North Yorkshire, or a valley in the Lake District, the Mission: Impossible team made headlines as they travelled across England to film the seventh instalment of the franchise, Mission: Impossible – Dead Reckoning Part One.
Now showing in cinemas worldwide, the film grossed a franchise-best of $253 million during its opening six days – showcasing mammoth stunts, edge-of-your-seat action and reminding us of Tom Cruise's superhuman dedication to his craft.
With many of the film's most exciting scenes having shot in England, we've taken a tour of Mission: Impossible locations across the regions. Read on to discover the role that England played in bringing this never-before seen action to cinemas worldwide!
Production for Mission: Impossible – Dead Reckoning Part One started in 2020, making it the first major Hollywood film to shoot during the COVID-19 pandemic. Over the next three years, and within the limitations of international lockdowns, the Locations Department scouted locations in Italy, Norway, Poland, United Arab Emirates and the UK. Following in the footsteps of predecessor, Mission: Impossible – Rogue Nation, they also filmed in part at Warner Bros. Studios Leavesden, home to the entire Harry Potter franchise and recent cinematic marvel Barbie, amongst many more.
On hand to support filming across the English regions, Creative England's Filming in England team were contacted with location briefs and enquiries at various points of production, putting the Locations Department in contact with relevant Film Office and Local Authority contacts. Jonny Shelton, Production Liaison Manager for the North West and Midlands, reflects:
"One of the reasons that the Mission: Impossible films draw in such impressive audience numbers is the action-packed narratives that they portray. The diverse range of locations on offer across the English regions provide the perfect backdrop to high-octane, edge-of-the-seat action.
It was a pleasure to aid the latest picture in achieving its aims in Cumbria and Derbyshire – and a real testament to the quality of the locations in both areas considering the franchise's Locations Department rightfully only settle for the best places.
Taking on challenging shoot days also highlights the talented and knowledgeable crew and facilities at the production's disposal. A film like Mission: Impossible sets a really high bar, in terms of quality and outcomes, and only the very best are able to make it happen."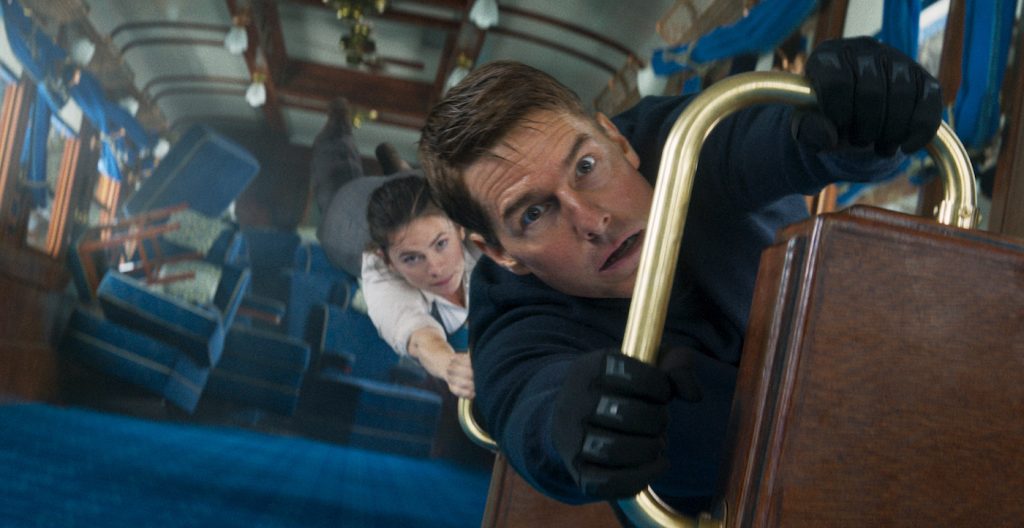 Salisbury Plain, Wiltshire
Owned by the Ministry of Defence (MOD), the 94,000 acres of rural land on Salisbury Plain proved perfect for the training what has since been dubbed 'The Biggest Stunt in Cinema History'.
Though the final scene was filmed in Norway, Tom Cruise and the team arrived at Salisbury Plain in 2020 to practise the death-defying stunt in which Ethan Hunt falls through the air on a motorbike. We spoke to Adam Young from MOD about the shoot:
"It was fantastic to be able to support the Mission: Impossible crew during their filming of Dead Reckoning – Part 1. Situated in the South of England, Salisbury Plain Training Area has provided a number of feature films with some fantastic locations for filming, offering wide open landscapes and beautiful vistas which have doubled for Africans plains and the American mid-west in the last year.
For Mission Impossible, Salisbury Plain Training area offered a perfect training environment for their aerial activities. A closed airspace and no access to the public meant that they could perform parachuting stunts and even dropping motorcycles from Helicopters without endangering the public.
We look forward to seeing these action pieces on the big screen."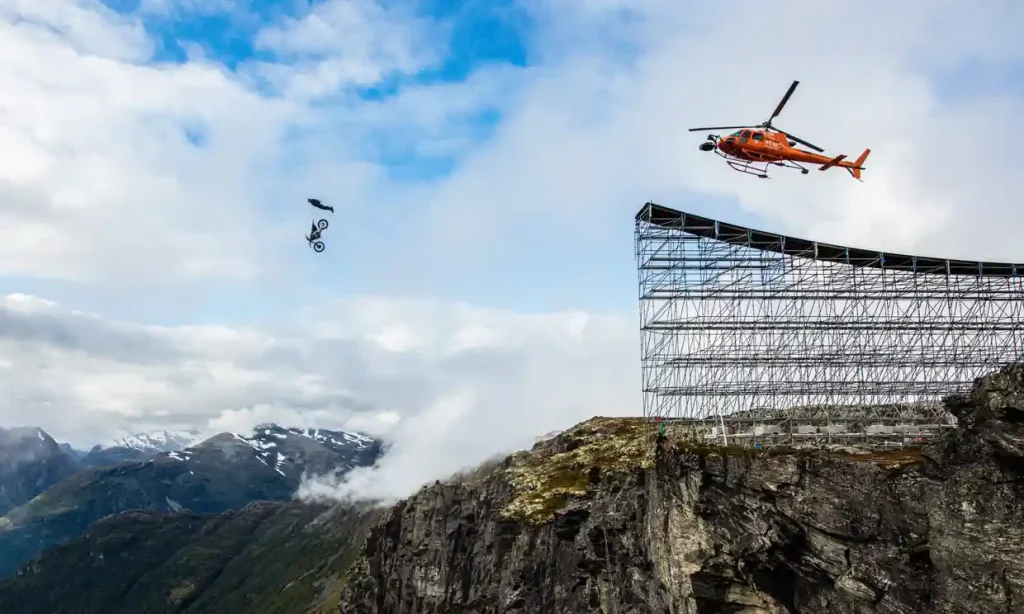 Lake District, Cumbria
Buttermere is a picturesque valley in the Lake District, comprising of three lakes and towering mountain walls. The Mission: Impossible team used the location for another astonishing stunt scene in September 2021, this time involving Tom Cruise helicoptering up to the mountain (High Crag) and "speedflying" down into the valley.
Want to see how they did it? Watch a behind the scenes video of the stunt here.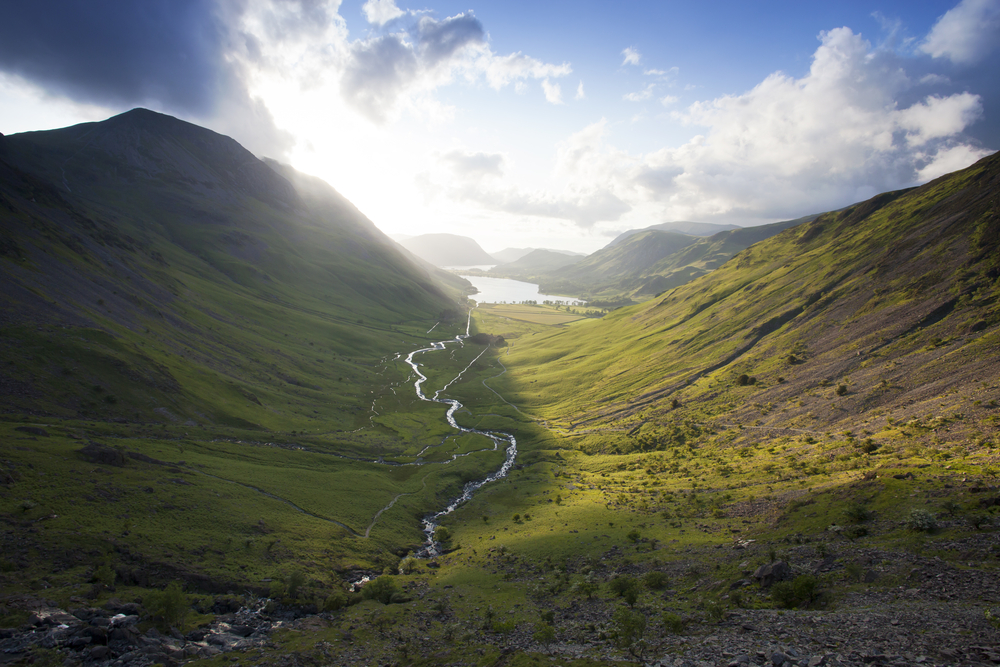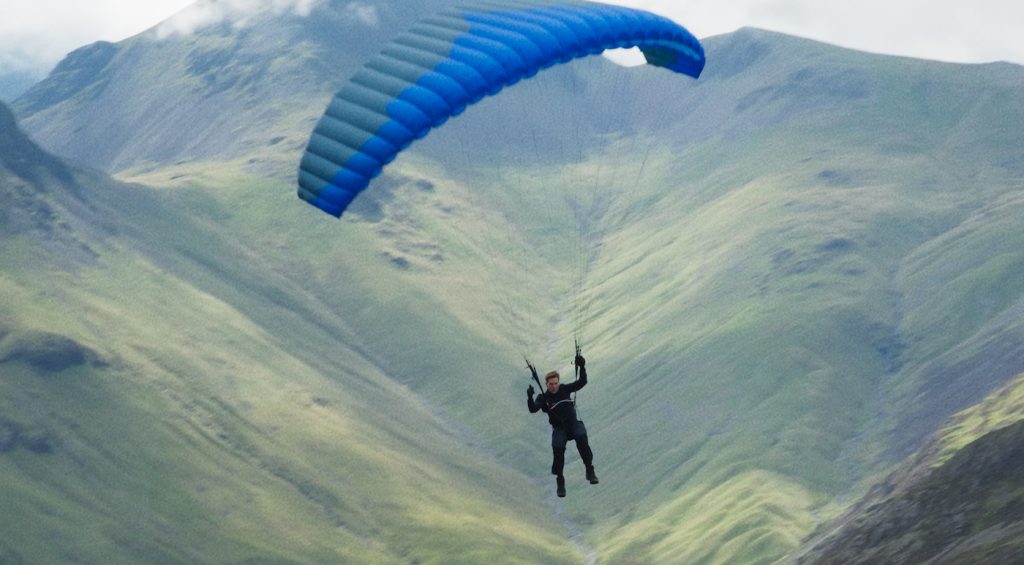 Stoney Middleton, Derbyshire
In September 2021, Mission: Impossible filmed in Darlton Quarry in Stoney Middleton, a village and civil parish in the Peak District, Derbyshire. Here, arguably the most ambitious set piece in the film was constructed, in which a replica train carriage is dangled off a steep ridge before being plunged into a quarry.

We spoke to to Tarmac and Fisher German LLP, who own and manage the location at Stoney Middleton. They provided insights into the exciting shoot:

"Tarmac was thrilled to be approached by the Mission Impossible franchise to provide a spectacular location in the Peak District National Park to carry out one of their breathtaking stunts. Acting on advice from Fisher German LLP, the location at Stoney Middleton provided the perfect scene for a runaway train to hurtle off a quarry cliff edge, forming part of a key scene in the movie."

To find out more about Tarmac's filming locations, visit filmlocations.tarmac.com.
Birmingham New Street Station
Who would have guessed that an empty John Lewis in Birmingham New Street would transform into Abu Dhabi Airport? Shoppers and commuters were stunned when in August 2021, the Mission: Impossible cast and crew arrived at the central Birmingham train station to film a chase scene there.
We were delighted to speak to Senior Commercial Filming and Campaigns Manager at Network Rail, Felicity Jump, about the shoot:
"It was a real pleasure when the locations team contacted us about filming in Birmingham New Street.
We had worked with the team on the previous two films and didn't want to pass up the opportunity to work with them again! It was fun to see Birmingham New Street dressed as an airport. It wasn't easy to dedicate so much space over to the film crew, but the marvellous station team rose to the challenge as they always do. And it was a great success.
People in New Street – both staff and passengers – were amazed to see Tom Cruise in the city. There was a real buzz around the station that weekend."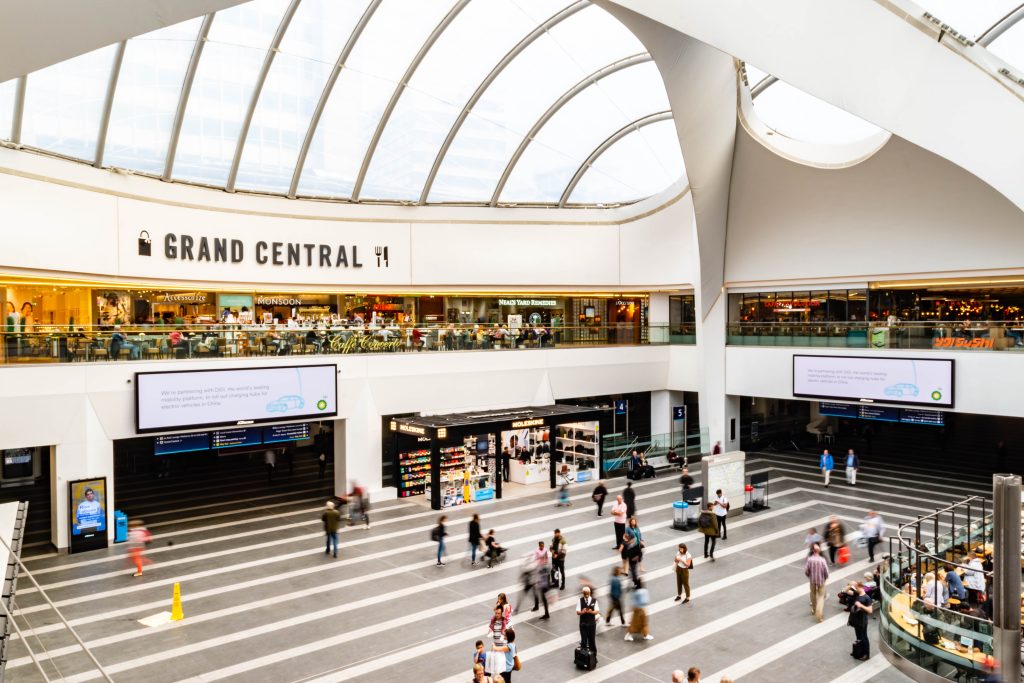 We also spoke to Head of Film Birmingham, Sindy Campbell, about facilitating the shoot in their city:
"Film Birmingham were delighted to work with Mission: Impossible during their shoot at Birmingham New Street & Grand Central. We worked closely with the Locations Department to ensure that this incredibly exciting shoot could take place as smoothly as possible, and the results are phenomenal – with an empty department store being completely transformed into a Middle Eastern Airport.
As a film-friendly city, we are delighted to work with partners such as Hammerson Plc, Network Rail and Filming in England to ensure that large productions like Mission: Impossible can make full use of all that Birmingham and region has to offer!"
North Yorkshire Moors Railway
The North Yorkshire Moors Railway is a heritage line which weaves through the North York Moors National Park. Its quaint beauty has attracted multiple films and TV series, including recent blockbuster Indiana Jones and the Dial of Destiny. In Mission: Impossible, the railway doubles for Norway in a scene where Ethan Hunt jostles with villain Gabriele on top of a steam train.
Screen Yorkshire are the Regional Film Office for Yorkshire and Humber, facilitating filming across the region and helping to drive the film and TV industry there.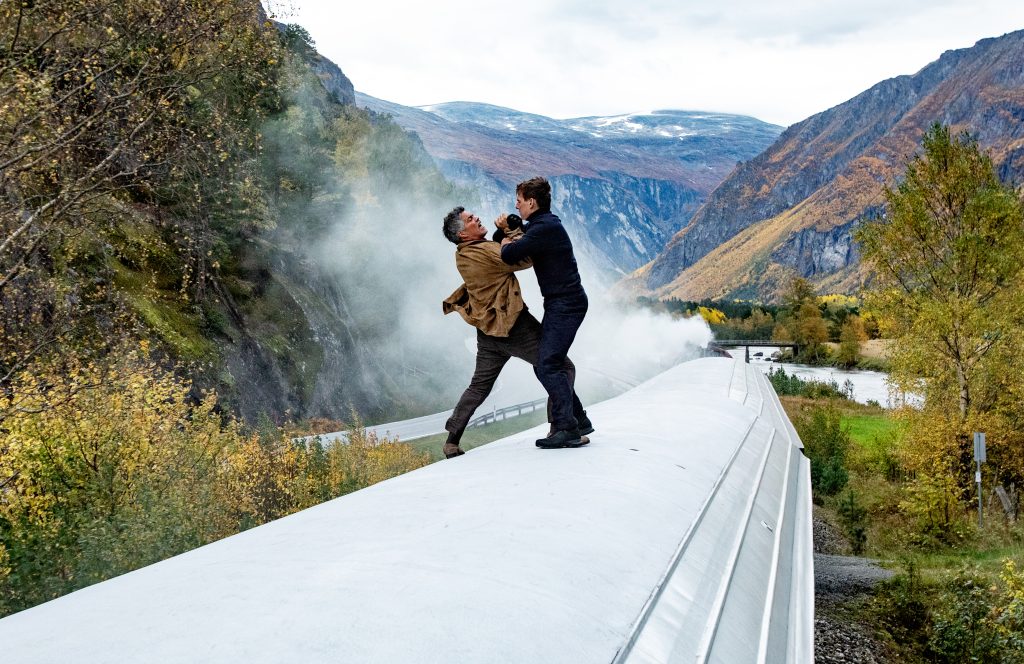 Mission: Impossible – Dead Reckoning Part One was released in UK cinemas on 10th July 2023. Dead Reckoning Part Two is currently in production and scheduled for release in summer 2024.
Across the English regions, Creative England's Filming in England team are on hand to facilitate high-end TV and feature film productions, working with local and regional partners. For more information on the support we offer, explore our website or get in touch at production@creativeengland.co.uk.