February 19, 2021
It's A Sin: On Location around the North West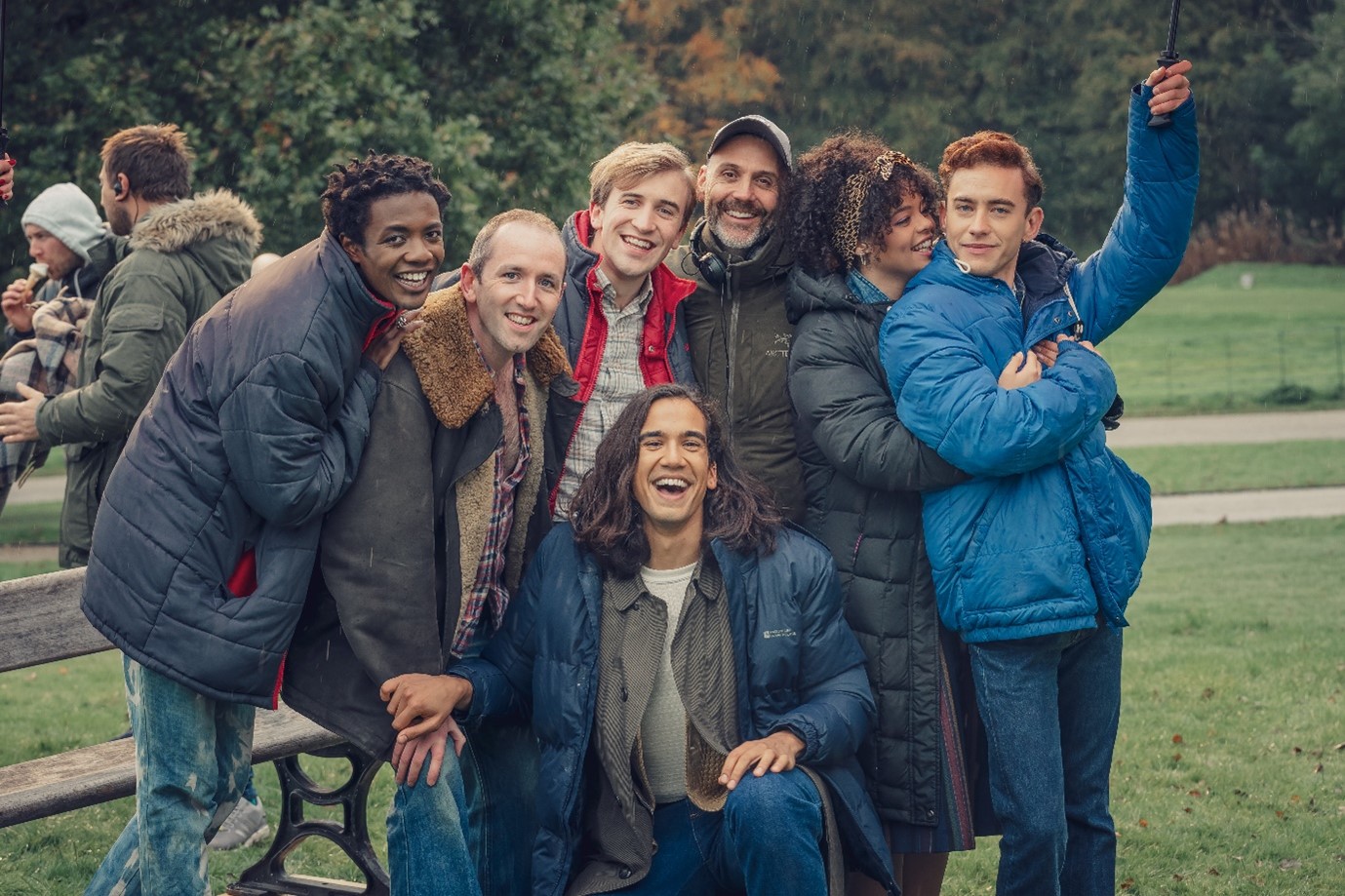 The highlights of 2021 have been few and far between thus far, however one is certainly the latest offering from the powerhouse combination of Russell T Davies and RED Production Company – It's A Sin, broadcast on Channel 4 from January this year. Both individually and collaboratively, the writer and the production team create exciting, thought-provoking and award-winning work that encapsulates audiences time and time again. The success of It's A Sin is unparalleled – on broadcaster Channel 4's streaming service All4 at least, having been 'binge-watched' over 6 million times since it became available, setting a new record.
The depiction of the initial outbreak and discovery of AIDS is seen through the eyes of individuals who meet having moved to early-80's London, however the production shot extensively across the North West of England in 2019 and early 2020.
We spoke to some of the industry professionals who were central to shooting It's A Sin to find out about the shoot.
Luc Webster – Location Manager
"One of the most memorable sequences we shot was on Le Mans Crescent, in Bolton. We had a scene with a big crowd, lots of extras in period costume surrounded by period vehicles, who were all supposed to be taking part in a demonstration outside a pharmaceutical company in London. Filming in Bolton was and is always brilliant, the council worked so hard to get everything sorted for us, including the road closure which gave us all the control we needed. The Local Authority were so supportive, and the results looks great."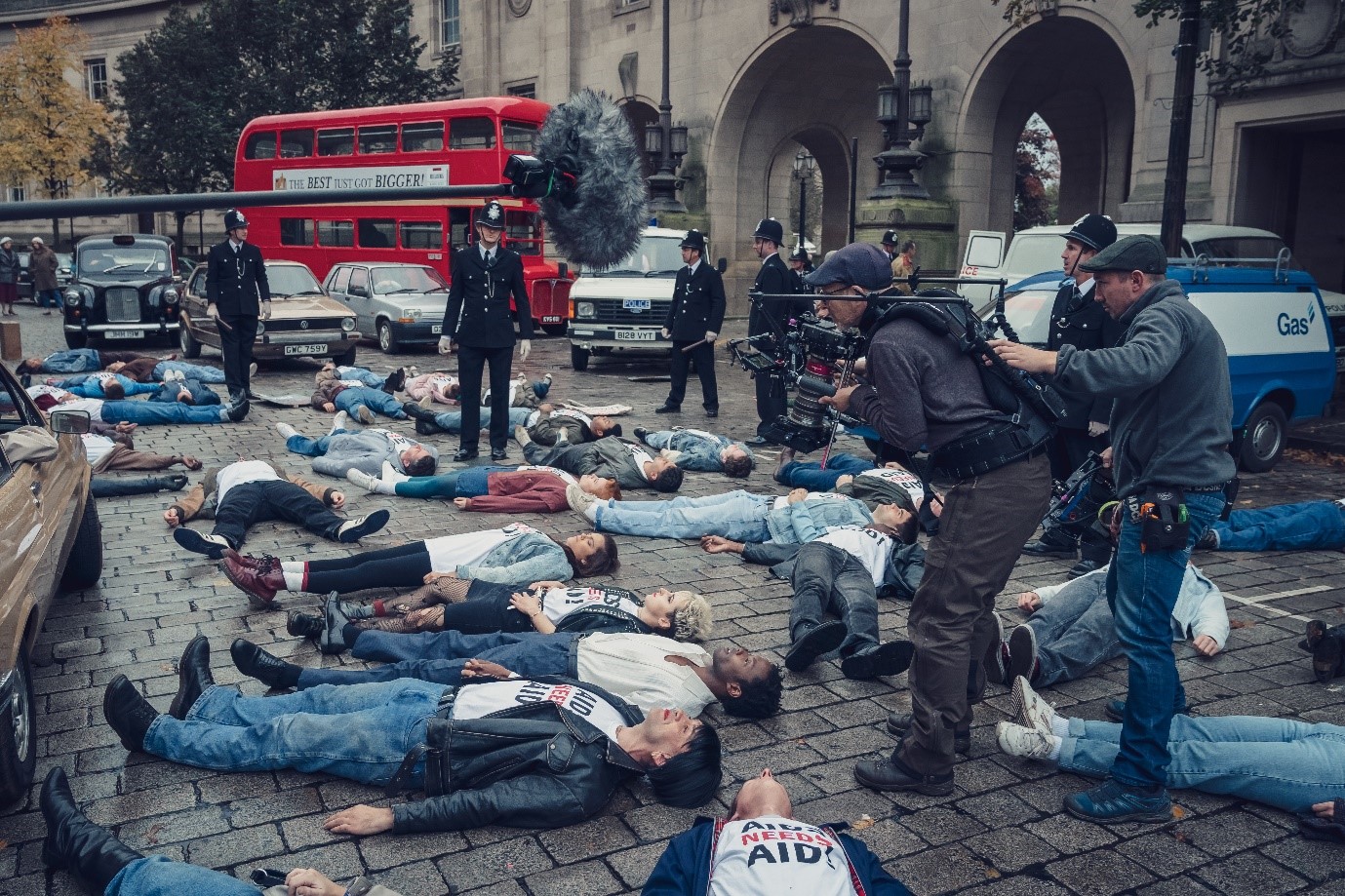 "The North West has so many good doubles. We, like many others, used Liverpool to work as New York – in particular, streets around The Liver Building. We dressed with some fitting street furniture and used period vehicles, like we did in Bolton. We then used various streets around Piccadilly and the Northern Quarter in Manchester to double as period London, and we were really pleased with how it looked – I've been told by peers and other industry professionals how much they thought it worked as London. Altrincham, in Trafford, has streets of similar brickwork to London too and works really well."
"The Film Offices – Liverpool Film Office and Screen Manchester – worked so hard to get us everything we need and they are always a pleasure to work with. As are Creative England, I see them as a Film Office for the areas they cover and they provided us which the support and liaison with councils we needed to get plans across the line in places like Salford, Stockport and Rochdale – which was where the family home was, not the Isle of Wight! Since I first started, shooting in the North has come on leaps and bounds and it continues to do so."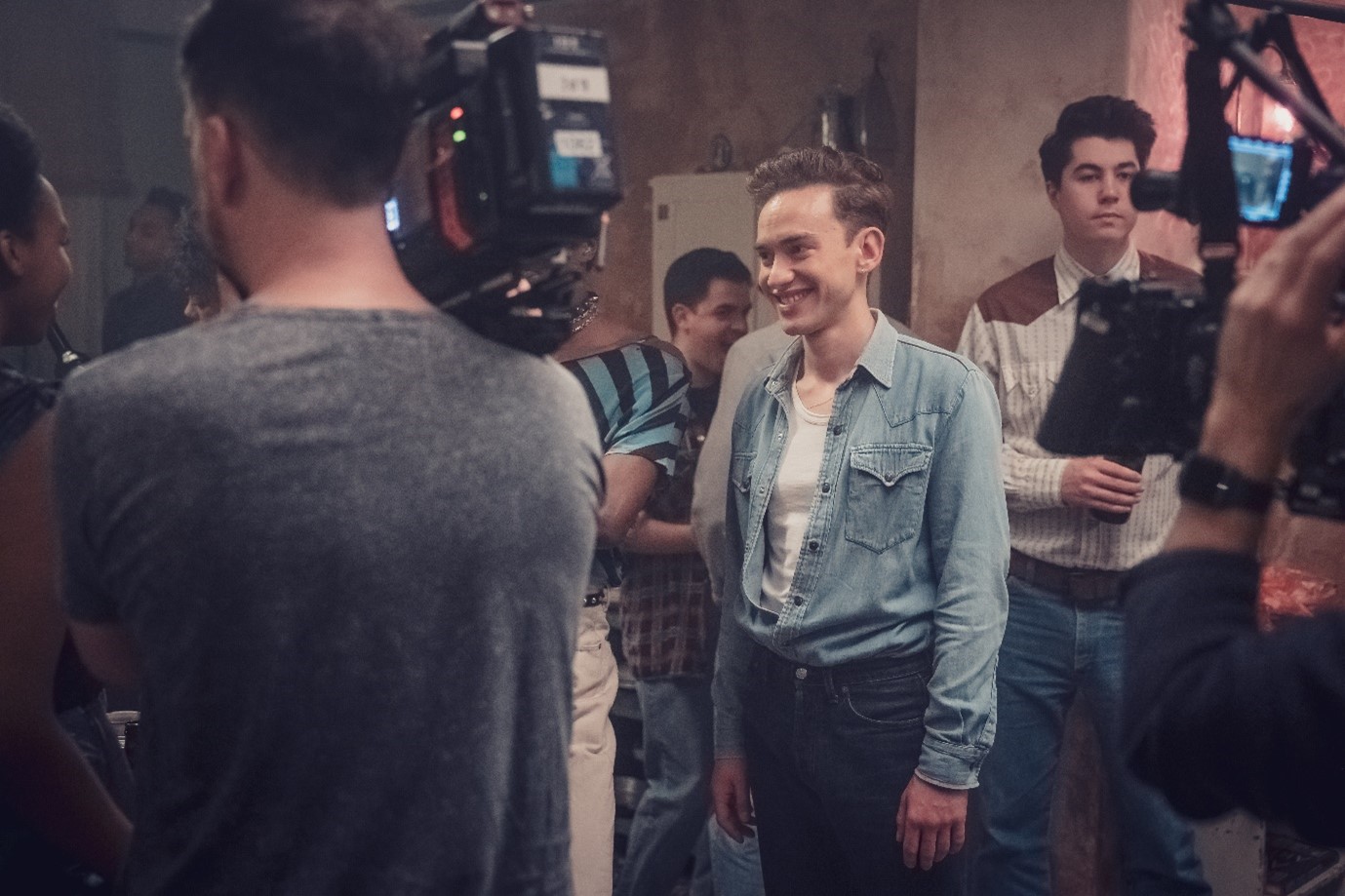 "I've worked with RED a couple of times and I'm always pleased to get the opportunity to work for them, they've produced some great work over the years, and they have a fantastic reputation. This was a brilliant production to work on, when I read the scripts, I thought they were amazing, and being involved in such an important story was a privilege, I'm really proud. There were some hard days, there always are when shooting period as there's a bit more work to do, but like childbirth – you forget all of those hard moments when you see the finished product!"
Kevin Bell, Operations and Liaison Manager for Liverpool Film Office said:
"It's always special when America comes to Liverpool, but to set the stage for a Russell T Davies project set within such an important and iconic period of 80s New York, was really exciting and a privilege for our team at Liverpool Film Office and colleagues across Liverpool City Council. The yellow taxis, the starred and striped flags, and plenty of subway steam on Water Street looked fantastic and working with RED Production Company again was a pleasure."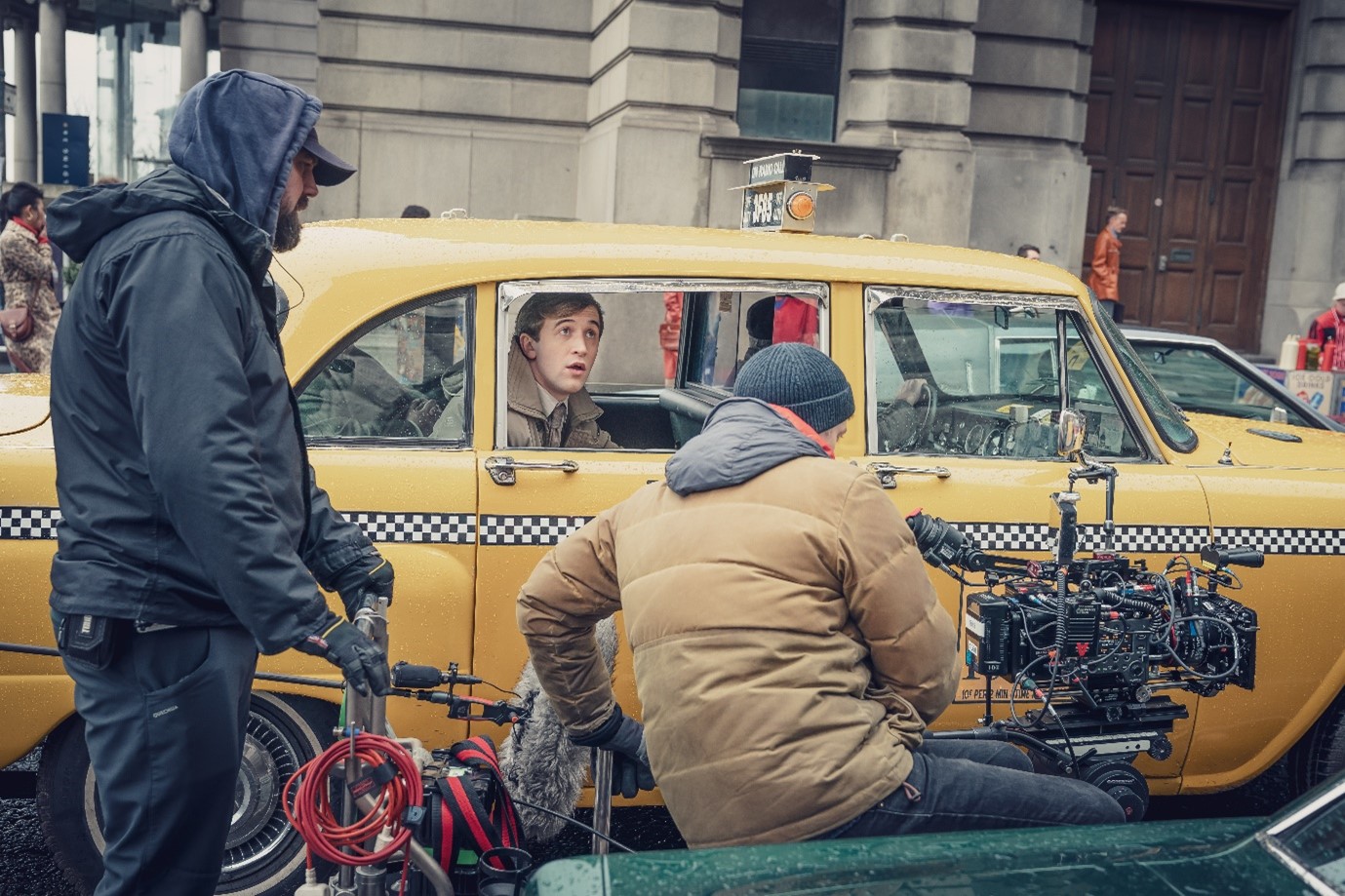 Bobby Cochrane, Development Manager for Screen Manchester said:
"We worked very closely with the production on their various filming applications across Manchester.  With this being a project set in the 1980s there were specific requests for street filming that required period props to be introduced into streetscapes including changes to shop frontages and vehicles of the time brought into place. Our colleagues in the highways department were fantastic and agreed for the production to have the necessary control over specific areas within the city.
It was a thrill for everyone at Screen Manchester to work on a project created by the iconic Russell T Davies and to work with the award-winning team at Red Production Company."
As well as taking advantage of the great locations and production services around the North West, the production was also supported when finding crew via Filming in England's Crew Database and bespoke crewing service, providing some fantastic opportunities.
Sam Rifkin, National Crew and Facilities Officer:
"Our crew support was a huge help to the production team, from finding last minute dailies to the more long-term roles, there were some amazing opportunities for North West based crew. In total, we sent out 6 crew calls and secured at least 125 days work for crew. From the beginning there was a lot of excitement in the region about the shoot and it's just great to hear many members of our crew database found work on it"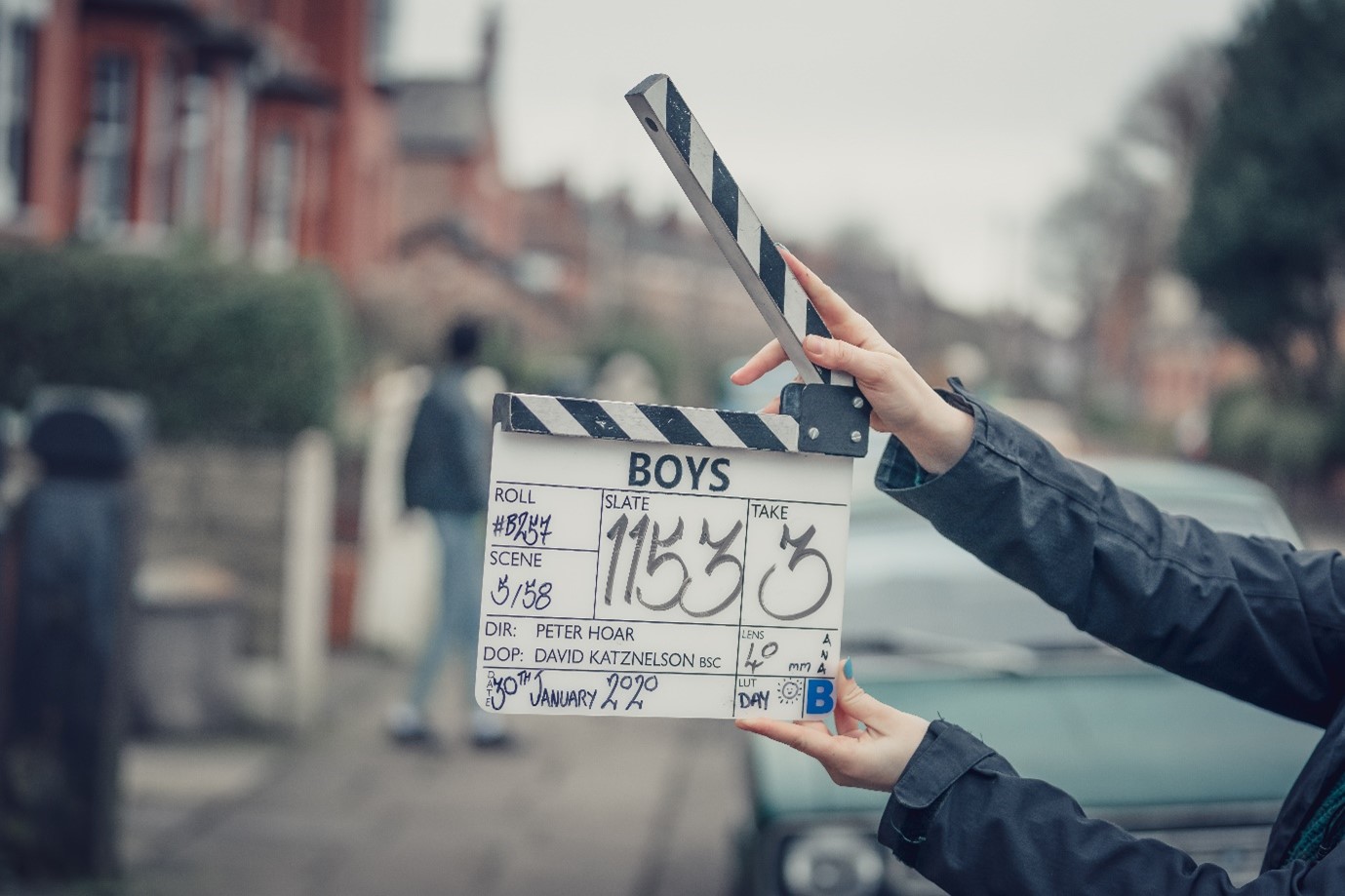 RED Production Company
RED Production Company are an independent production company with bases in Manchester and London, and much of their output shoots across the North West.
"We are extremely proud of 'It's a Sin' and overwhelmed by the response. Having filmed the entire production in Manchester and Liverpool, it's great knowing that via bodies such as the Film Offices in these 2 great northern cities, also Creative England's Filming in England Team with their leads into the many local authorities, to enable our production teams to create their vision on our doorstep in the north!"
For more info on Creative England's Production Services Team, please visit filminginengland.co.uk
Catch It's A Sin on All4 here – https://www.channel4.com/programmes/its-a-sin