November 23, 2022
In 2016, audiences around the world were on the edge of their seats as the latest release from a galaxy far, far away came to cinemas.
Rogue One: A Star Wars Story, a story set before the iconic films of the 1970s and 1980s, sees a memorable and jaw-dropping coming together of the Rebel Alliance and the Empire, and the epic story met hugely favourable reviews in the press and within the global community of steadfast Star Wars fans.
Fast forward to 2022, and those audiences have returned to the edge of their seats – and have been there since the word got out about where the tale of Rogue One will head next; bringing us to Andor, a new High-End TV series which reveals the story of Rogue One's Cassian Andor, five years before the film.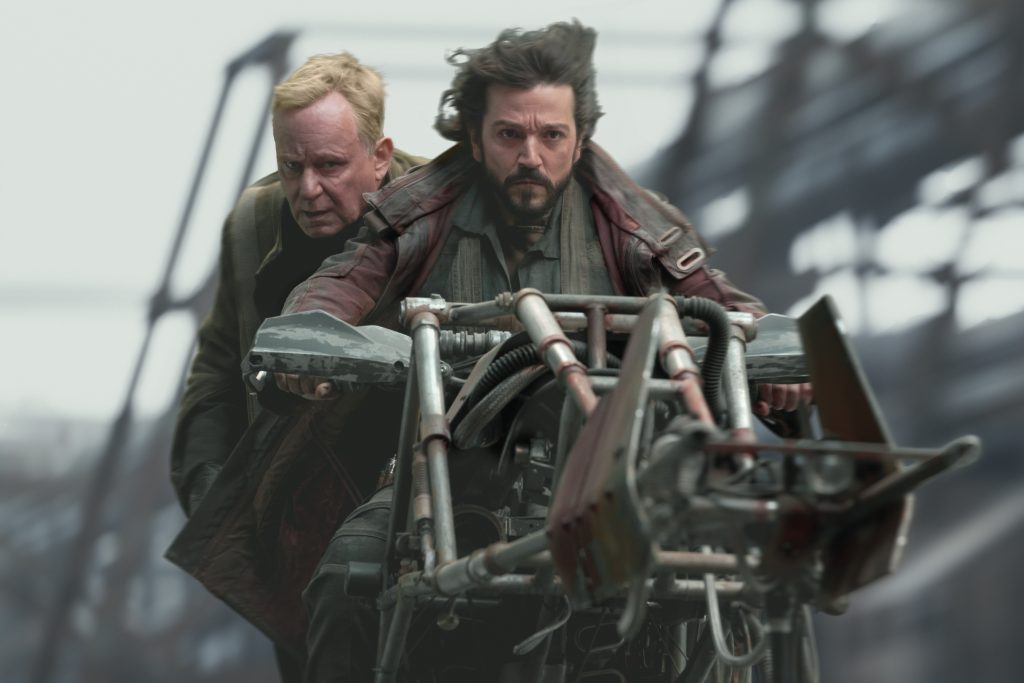 Andor – portrayed by Diego Luna, who reprises his role from Rogue One – is a series of enormous scale, with a need for diverse locations that could thoroughly represent the magnificence and scope of the writing.
The English regions have proven that they can support with such needs on various productions of similar size in recent years, including Rogue One itself. From the initial stages of pre-production, the Locations Department on Andor contacted Creative England's Filming in England Team with their weird and wonderful location briefs.
With it being for one of the biggest franchises in the world, the Andor Locations Department had to draw upon their collective wealth of experience on high-end TV productions to find the unique, other worldly locations that brought the Galaxy to screen for the highly anticipated Star Wars' spin-off. Richard Hill, the Supervising Location Manager on Andor, explains further:
"Working in the Locations Department on a Star Wars project is a hugely exciting prospect that allows us as a team to explore a variety of landscapes, architectures and environments, always pushing to try and uncover visually striking locations to complement the storytelling. We felt very privileged on Andor to be working with such an amazing Design and Production team and were able to tackle filming in some incredibly challenging locations with results that we are all extremely proud of. 
Due to the Covid pandemic, the original scope to span a number of different countries had to be reimagined and this meant we relied heavily on everything the UK had to offer for location filming. Crucial to this was the support of various agencies, organisations and companies along the way. Creative England were a constant source of support in this, whether in suggesting potential filming sites, assisting with crucial contacts or being a key ally in the formulation of filming plans. 
The scale, scope and ambition of the project is clearly visible on screen and as a Department we feel honoured to have been involved."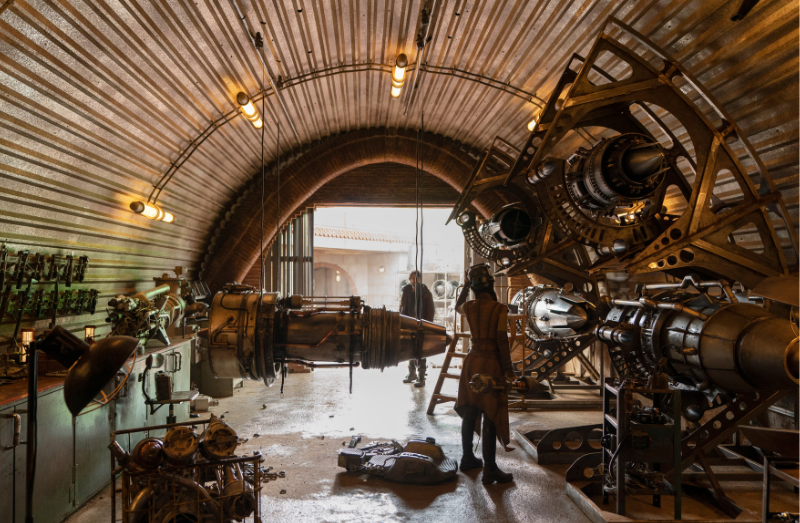 The Filming in England Production Liaison team supported the Locations Department with multiple location enquiries, using their own knowledge and networks. Plus, on several occasions, those who manage the locations – and those who don't but have a desire to help and support – were on hand to make sure that Andor would be a show to match that of Rogue One.
We spoke to some of the locations used to hear about their experiences of Andor.
Cleveleys Coastline – Wyre District, Lancashire
The seaside town of Cleveleys sits in between Fleetwood and Blackpool in Lancashire, and the futuristic appearance of the Cleveleys seafront features fantastically in episode 7 of Andor. As one of the highest-profile productions to shoot in the area, Andor is already generating a buzz of excitement in Cleveleys – and the council are looking forward to welcoming fans and visitors to see Cleveleys' very own corner of the Star Wars universe.
Alexandra Holt, Tourism Development at Wyre Council, comments on this:
"I was absolutely delighted that the stunning seaside resort of Cleveleys, in our district of Wyre on the coast of the Irish Sea, was chosen as a location for some of the scenes for the Disney+ production of 'Andor'. Filming took place in early May 2021 and despite the challenges brought on by filming during the Covid pandemic and during a local election cycle, the whole experience was an extremely positive one for the residents, businesses and Wyre Council.
The Locations Department ensured excellent communication throughout and the team were extremely understanding and supportive of how local authorities work. The filming focused on our bustling promenade and sea-facing roadway and took place around an exceptionally busy May Bank Holiday period. Whilst this presented its challenges, Wyre Council – with some support from the county council – ensured the production had the necessary traffic management orders, road closures and car parking in place for better access for crew vehicles, large trucks, and as a unit base.
We appreciate the huge benefits filming brings to our district and we also appreciated the support we receive from our partnership with Creative England's northern arm of Filming in England."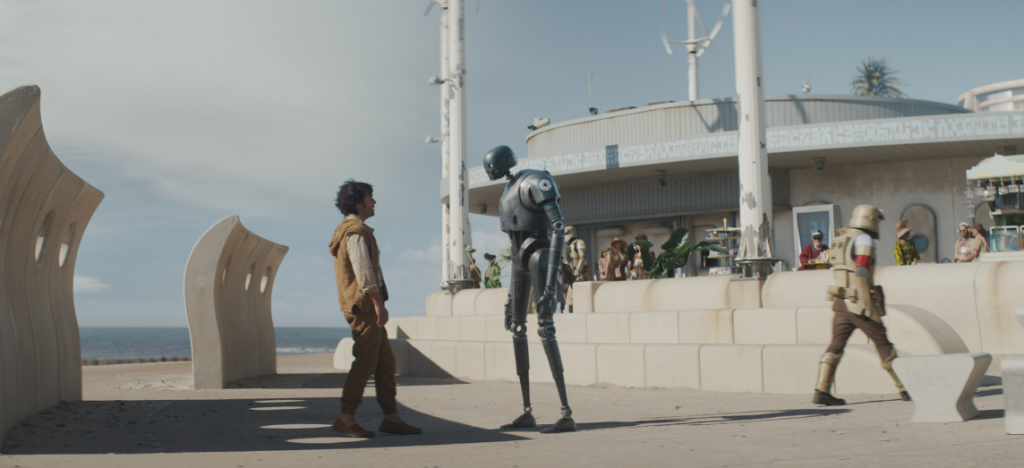 As Alexandra mentions, Lancashire County Council also supported the production as best as they could – as we heard from County Councillor Peter Buckley, cabinet member for community and cultural services at Lancashire County Council:
"From The King's Speech to A Brief Encounter, Lancashire has a well-established relationship with the small and big screen. It doesn't get much bigger than Star Wars, and we're proud that Lancashire was chosen as one of the otherworldly locations used in the highly anticipated Disney+ series, Andor.
Star Wars brings joy to millions of people around the world and is doing so with a whole new generation of Padawans, with its diverse array of characters and landscapes. Our own diverse and beautiful landscapes make Lancashire a perfect choice for filmmakers, rather than a galaxy far, far away.
The Force remains strong in Lancashire, which is why we are confident we will attract more blockbuster productions in the future, putting us firmly on the global – and galactic – map."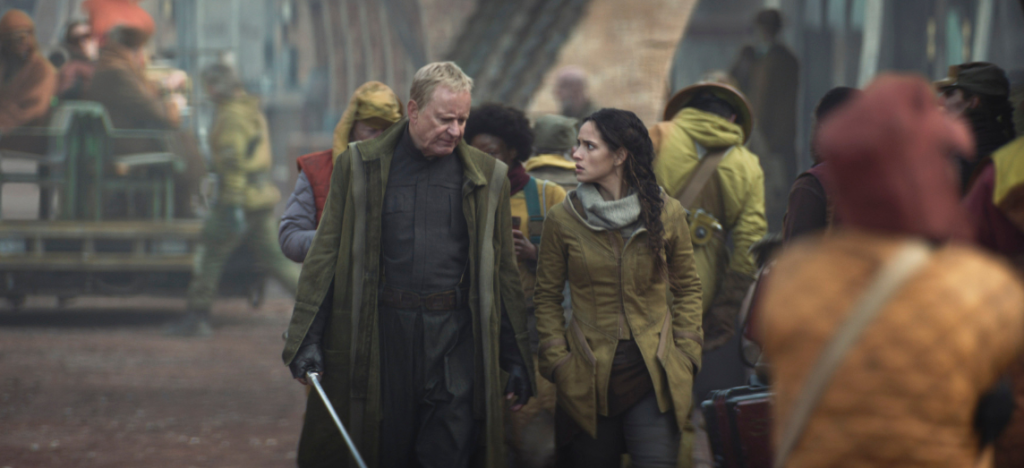 As both Alexandra Holt and Peter Buckley attest, there are huge potentials for tourism when selected to enter one of the world's biggest feature and television franchises. The public response to Andor's shoot in both Blackpool and Cleveleys created such excitement that visitors have been arriving from across the UK to see the locations. Rachel McQueen, Chief Executive of Marketing Lancashire, comments on why supporting industry is important to them:
"Marketing Lancashire is proud to be a Filming in England Partner and has worked for many years with Creative England to explore, develop and help enable filming opportunities for Lancashire.
As well as bringing attention to our incredible historic architecture, beautiful coastal and countryside landscapes, filming contributes millions to the local economy; several thousand per filming day, spent on local businesses and services.
Film and TV Tourism can be linked directly to a Lancashire appearance on screen, whether that's the upsurge in bookings for local restaurants or producers, seen after the recent Hairy Bikers TV programme or the interest in the supremely photogenic Morecambe Bay area, as both a place to visit and to invest in, boosted with each series of the The Bay."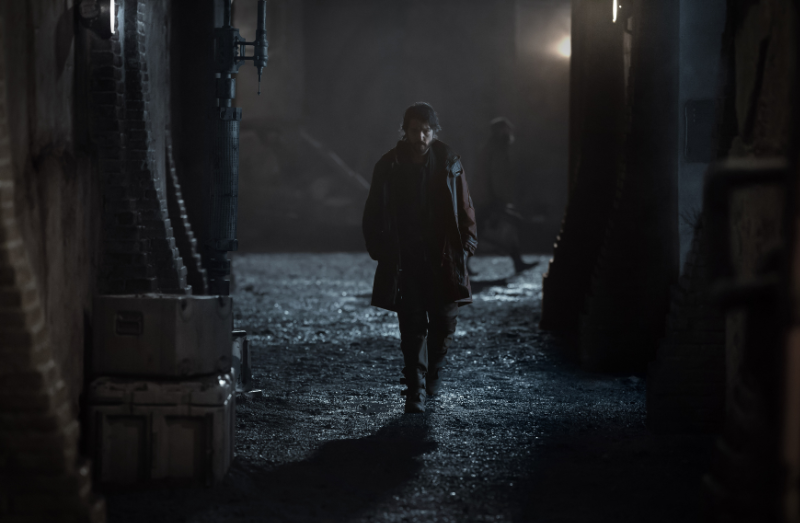 Blackpool – Lancashire
Whilst on the Lancashire coastline, Andor travelled to the seaside resort of Blackpool, which has previously welcomed a variety of feature film and high-end TV productions – including BBC's Dodger, Netflix's Stay Close and Amazon's 2021 adaptation of Cinderella. The seafront caught the attention of Andor's Locations Department, and the production filmed there in 2021. Blackpool Film Office (part of Visit Blackpool) were delighted to accommodate several days of filming for Andor. A spokesperson for Blackpool Film Office comments:
"We are immensely proud to see Blackpool's famous seafront appear in Disney+'s highly anticipated series, Andor.
This production in particular generated quite a buzz from residents, visitors and media alike, and we were delighted to hear excellent feedback from producers about their experiences in Blackpool.
In a short period of time, Blackpool Film Office liaised with several different teams across Blackpool Council to help facilitate the production's application, including services such as Highways, Parking, Beach Patrol and Events, to ensure that filming could take place on the dates requested with minimal disruption to residents nearby and mitigating the risk of COVID-19.
This high-profile filming request could not have been achieved without the seamless communication between the production and Blackpool Film Office, combined with the invaluable assistance from Creative England and the wider teams at Blackpool Council."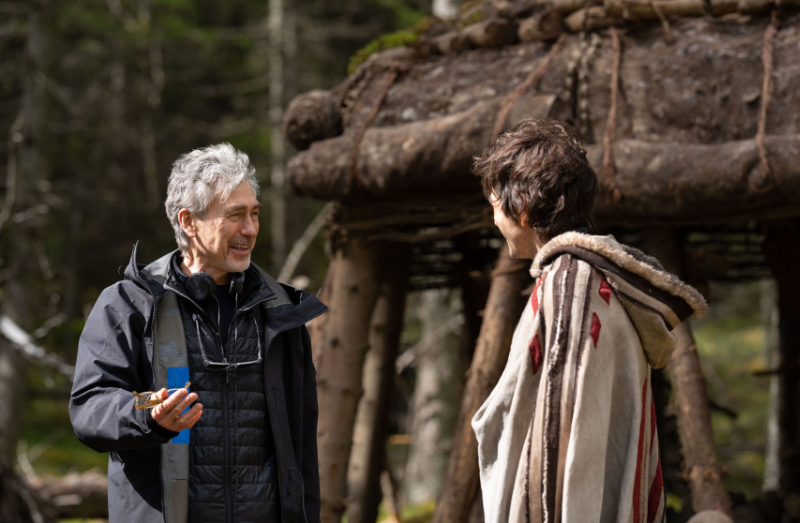 Jelleys Hollow, Cranleigh – Surrey
The production made their way down to the South East where they shot in Jelleys Hollow in Surrey. Surrey Film Office helped support this production and we hear from their Film Officer, Vikki Brown:
"Being the most wooded county in England, it's no wonder so many production companies choose Surrey for their woodland locations. Jelleys Hollow offers a variety of unique backdrops, and we were delighted to work with the Andor production team, while they filmed here on location."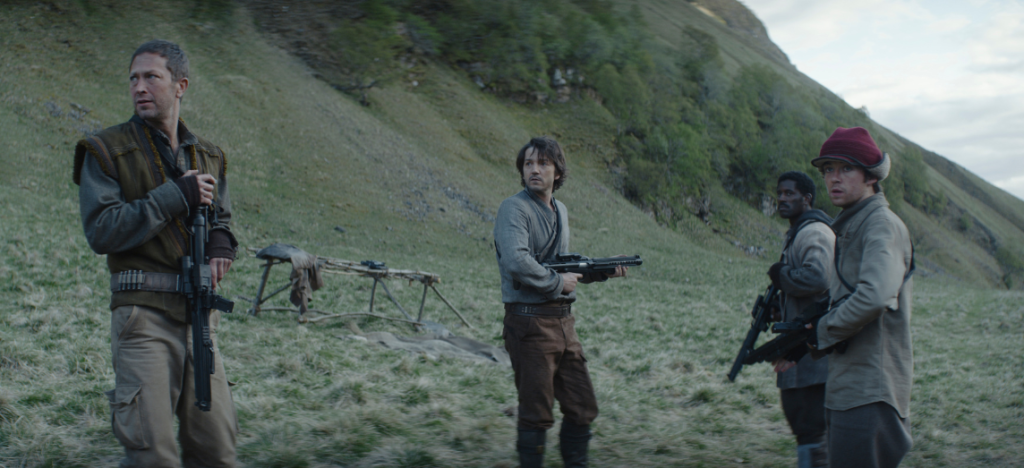 Middle Peak Quarry – Derbyshire Dales, Derbyshire
The unique geography of Middle Peak Quarry served as a fantastic setting to sit within the world of Andor, with its towering peaks and lines of forest creating a landscape of tremendous scope. The Andor team quickly saw that the site was transformed in the summer of 2021 – with the support of those who manage the quarry, Derbyshire Dales District Council, Wirksworth Town Council and Derbyshire County Council. Leader of Derbyshire County Council Councillor, Barry Lewis, said:
"Throughout the Peak District and beyond, Derbyshire is blessed with stunning scenery steeped in history making it a prime location for the film industry.
Pride and Prejudice, The Duchess and more recently the latest Mission Impossible film all feature locations in Derbyshire, and we recognise the huge benefits that filming can bring in putting our county on the map.
We're always happy to support Creative England in bringing the industry to Derbyshire and we're proud of the small part we've played in enabling a production from an internationally renowned franchise such as Star Wars to film in our area."  
Productions of such scale and reputation can help put destinations on the map, bringing attention to the region whilst simultaneously providing opportunity for local employment and investment. We spoke to Jo Dilley, Managing Director of Marketing Peak District & Derbyshire, about Andor's positive impact on their area:
"We love welcoming film and TV productions to the Peak District and Derbyshire – our county is home to a range of beautiful and diverse landscapes and backdrops and, with productions spending an estimated £2.1 million whilst filming in Derbyshire since 2019, they form an important part of the local economy.

It was our pleasure to support the filming of Andor and we look forward to working with Creative England to promote the Peak District and Derbyshire as a film-friendly destination."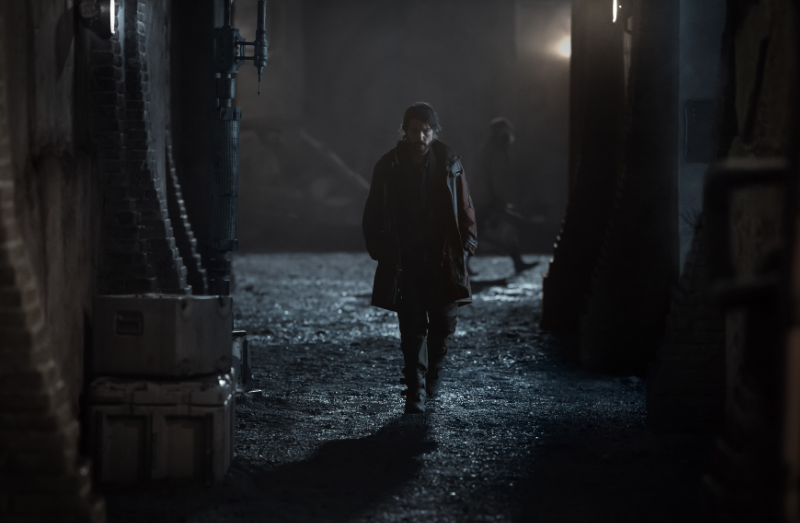 All episodes of Andor are now available on Disney +.
For more information on who we are and what we do, please visit www.filminginengland.co.uk.